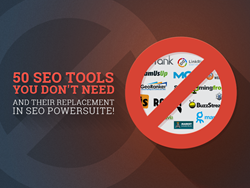 If you're into active SEO, I urge you to check each of these areas and see if you can optimize your workflow with fewer tools.
(PRWEB) September 30, 2014
Link-Assistant.Com, the software house with a decade's experience in developing tools for site promotion and the company behind SEO PowerSuite, today published a list of 50 tools one doesn't need if they have SEO PowerSuite. The research covers 11 vast SEO areas, mentioning most popular tools used for each, and proving that they can be replaced with SEO PowerSuite.
"The SEO software market is really huge, and quite often one's SEO experience starts with some tiny SEO tool," says Erin Madison, User Experience Manager, Link-Assistant.Com. "As time goes by, there are already 2, 3 or 4 apps in the mix, and the owner spends lots of valuable time putting the data together into spreadsheets or suchlike - that's quite a common pattern I encountered talking to our customers and random people in the industry."
"As a matter of fact, it's not necessarily the right way to go about this, because time and money investments gradually become overwhelming, and the SEO routine daunting and overcomplicated. As long-established SEO software providers, we follow the market trends religiously to make sure SEO PowerSuite has each and every feature a site promoter may need," explains Erin.
*The 11 SEO areas to take care of with SEO PowerSuite*
The research by Link-Assistant.Com splits the 50 SEO tools into 11 functionality blocks, including the following ones:
1. Keyword research
2. Rank Checking
3. (Not Provided) Insights
4. Website SEO Audit
5. Content optimization
6. Social Signal Tracking
7. XML Sitemap and Robots.txt creation/management
8. Backlink research and analysis
9. Harmful link detection
10. Finding link prospects
11. Link management
"If you're into active SEO, I urge you to check each of these areas and see if you can optimize your workflow with fewer tools. Chances are there's room for improvement for your SEO routine and optimizing your SEO costs," sums up Erin.
Details on the 50 SEO tools you may no longer need are available at http://www.link-assistant.com/news/50-tools.html
Feeling social? Say hello to Link-Assistant.Com on Facebook Facebook fb.me/LinkAssistant, Twitter @LinkAssistant or Google+ gplus.to/LinkAssistant and stay updated on the latest SEO and company's news.
About the company
Link-Assistant.Com is a technology-driven software company with primary focus on developing software for data-driven search engine optimization and social media marketing (buzzbundle.com). The company's flagship product, SEO PowerSuite, consists of Rank Tracker, WebSite Auditor, SEO SpyGlass and LinkAssistant. According to the just-published analysis, these 4 tools alone can replace 50 SEO tools in eleven crucial areas of search engine optimization.