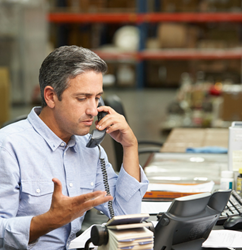 Supplier PO offers Suppliers, Trade Insurance Providers, and Factors a solution.
San Diego, CA (PRWEB) October 01, 2014
Suppliers of products are exposed to companies who make orders with either no intention or limited ability to pay a Purchase Order and Supply Manufacturers are left holding the bill. Supplier PO technology is reducing the chances of these transactions reoccurring while helping to recover losses. Suppliers use a few options to protect their revenue; Trade Insurance will protect the supplier or manufacturer's revenue provided the product is satisfactory upon arrival. Reverse Factoring will advance the revenue before the delivery of the product and take responsibility for any losses that may occur. These options can cost Suppliers up to 3% of their bottom line. Supplier PO offers Suppliers, Trade Insurance Providers, and Factors a solution. They hold the purchaser accountable allowing all parties in Supply Chain Management the ability to identify and record non-paid purchasers. Anyone can perform a free search on SupplierPO.com during their credit approval process.
Supplier PO takes a number of precautions to protect Suppliers and the companies who order supplies. Visitors to SupplierPO.com can only view basic information about all parties. No personal information on the Supplier or Purchaser is displayed for privacy. Suppliers, Factors, Insurance Companies and Accounts Receivable Firms can manage non-paid POs on SupplierPO.com at any time with a simple sign-up process. SupplierPO.com may legally display third-party information and is protected by Section 230 of the Communications Decency Act. The law allows third-party Suppliers and their associates the ability to post information about a company who has not paid a PO.
Supplier PO is changing the accounts receivable industry. Accounts Receivable company; PAIDPO, who services more than 700 supply manufacturers uses SupplierPO.com to collect outstanding balances that are written-off by Suppliers as loss.
Companies who are placed on SupplierPO.com are given options to be removed. They may dispute the PO, pay the PO or contact the Third-party who placed the PO online to resolve the dispute. If a company feels they have been placed on SupplierPO.com in error, Supplier PO will forward a dispute request to the third-party. Supplier PO will allow a non-paid PO to remain online until the PO is resolved and removed by the third-party.
Supplier PO is a non-profit organization who provides information services at no cost to Suppliers and Supply Chain Management Services.