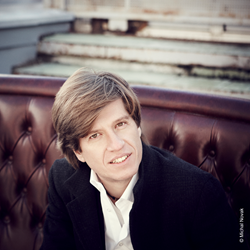 Randolph, NJ (PRWEB) October 01, 2014
The Music Den has announced that it will be hosting a concert by internationally acclaimed Spanish pianist Mario Prisuelos on Saturday, October 25, 2014 at 7:00PM at the Randolph Performing Arts Center. Back in the United States by popular demand, Mr. Prisuelos' current concert "Estampes" will feature works by C. Debussy, Marcial del Adalid, Ramon Lazkano, Isaac Albeniz, and E. Granados.
Mario Prisuelos is considered one of the most relevant pianists of his generation, as confirmed by his enormous European and American concert activity. He is a regular guest at major festivals throughout Europe, and has performed in concert halls in Vienna, Milan, Paris, London, Florence, Rio de Janeiro, New York and Miami. He recently completed an extensive tour in the United States, debuting in New York's Carnegie Hall. Known for his innovative programming and commitment to the musical creation of his time, a concert by Mario Prisuelos is an event not to be missed.
Born in Madrid, Mario Prisuelos studied at the Royal Conservatory of Music in that city, then trained further in Vienna under the direction of Leonid Brumberg, subsequently finishing in Madrid with Humberto Quagliata, thus continuing in the piano tradition of the great maestros like Alfred Cortot, Claudio Arrau, and Arthur Rubinstein. His remarkable career was launched internationally at the Feuchtwangen Piano Festival in the acclaimed Musikzauber Franken Concert Series in Germany, where the critics praised his great talent and forceful power of communication.
The Randolph Performing Arts Center is a 120-seat auditorium located at The Music Den in Randolph, NJ. Unveiled in 2010, the Randolph Performing Arts Center has had a huge impact on the community, providing a much needed home for student recitals, concerts, clinics, band camps and plays.
The Music Den is a true, full line musical instrument store. More than just guitars, bass, and drums, The Music Den sells pianos, rents and repairs band and orchestra instruments, offers private and group musical instrument lessons, and offers concerts and clinics. They also have a contracting division that does PA installations for churches, schools, gyms, venues, concert halls, and stadiums.
The Music Den is also one of only four music retailers in the country that have a musical GSA schedule contract which allow them to directly and efficiently sell to the federal government and federal customers wishing to purchase music related goods.
For more information on The Music Den or the Randolph Performing Arts Center, please visit their website at http://www.themusicden.com, stop by their locations in Randolph or Butler, New Jersey, or call them at (800)-479-1189.