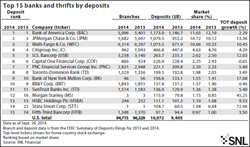 The top 3 banks and thrifts by deposits are: Bank of America Corp., JP Morgan Chase & Co., and Wells Fargo & Co.
Charlottesville, VA (PRWEB) September 30, 2014
Announced today in a report by SNL Financial, banking companies continued to grow during the 12 months ended June 30, even as they collectively closed hundreds of branches amid efforts to shave costs and invest more resources in the online delivery channels that customers increasingly prefer.
The FDIC's annual Summary of Deposits released Sept. 29, contains from July 1, 2013 through June 30, 2014. It shows 94,715 U.S. branches at June 30, down from 96,329 a year earlier. During the same period, deposits grew from about $9.4 trillion to more than $10 trillion.
"For at least the near term, I think the trend continues," Chris Nichols, chief strategy officer at CenterState Banks Inc.'s bank unit, told SNL.
He said banks of all sizes, including Florida-based CenterState, see less and less foot traffic in typical branches each year as customers do more of their business online and via mobile devices. "They don't go into branches like they used to," he said.
According to SNL's latest report, this has motivated banks to take a hard look at each branch they operate and close those that are simply not generating substantial business. The latest 1.68% dip in branch totals tallied by the FDIC marks the largest year-over-year decline since 1994, which is as far back as the agency publishes data electronically.
The money saved often gets reinvested in new technology aimed at meeting customers' evolving preferences. Banks are also consolidating branches after they make acquisitions, often closing overlapping locations. CenterState, for one, is in the process of closing four branches after cinching a pair of open-bank deals this year, Nichols said.