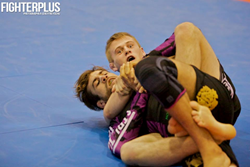 "Its a good warmup for next weekend when I'll be competing in the No Gi Worlds." - Devon Delbrugge, No-Gi Champion
New York, NY (PRWEB) October 01, 2014
Devon Delbrugge defeated six opponents this past Saturday to win one Gold and one Silver medal at the prestigious No Gi Pan grappling competition
Delbrugge, a Purple Belt in Brazilian Jiu-Jitsu, competed in the Middleweight division (181.5 lbs and below) as well as the Open Class (all weight classes) division. In the Middleweight category he defeated 4 opponents including last year's Blue Belt World Champion and claimed his first No Gi Pan Title. In the Open Class, Delbrugge defeated 2 heavier opponents before losing to the Super-Heavyweight Champion in the finals.
"It was fun to get out there and get after it," says the Howard County native. "Its a good warmup for next weekend when I'll be competing in the No Gi Worlds."
Devon Delbrugge has always been a strong competitor. He holds World Championship medals at the Blue Belt and Purple Belt level. He is a coach and instructor at Maryland Jiu Jitsu school, Crazy 88 Mixed Martial Arts. A graduate of River Hill High School, Delbrugge is pursuing an athletic career in Grappling and Jiu-Jitsu competitions. He also plans to one day try UFC style Mixed Martial Arts competitions.
The No Gi Pan is an annual competition run by the International Brazilian Jiu-Jitsu Federation (IBJJF). The IBJJF is the governing body for the major grappling tournaments in the world, including the World Championships, Pan, European Open, and the Brazilian Nationals. They run competitions that require the Gi (uniform) as well as No-Gi (no uniform). The No Gi Pan is considered one of their two most prestigious No Gi events.