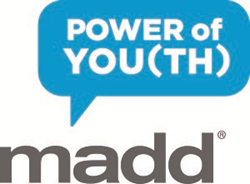 DALLAS (PRWEB) September 30, 2014
Mothers Against Drunk Driving® (MADD) is proud to announce 10 teens chosen to represent the organization's National Teen Influencer Group and serve as positive role models of young people who choose not to drink alcohol. These distinguished teens will help educate and motivate their peers and others in their schools and communities to take a stand against underage drinking.
"The dedication demonstrated by these inspiring youth to bring about the awareness and importance of underage drinking prevention is truly outstanding," said MADD National President Jan Withers. "The National Teen Influencers are proof that teens can have a fun, successful and meaningful life without alcohol and have the power to influence their peers to make the same smart and healthy choice."
All 10 teens were selected based on several considerations and eligibility requirements, including their commitment to be alcohol and drug-free, not ride with drinking drivers, and share MADD's safety messages. Teen alcohol use kills about 4,700 people each year—more than all other illegal drugs combined—all of which are 100 percent preventable.
To kick off their year-long volunteer work, the teens will travel to Nashville, Tenn. for the National Teen Influencer Summit during Red Ribbon Week in October. They will work together to develop underage drinking prevention projects to take back to their communities as well as serve as a sounding board on current initiatives. Additionally, the teens will participate in Nashville's Walk Like MADD, the organization's signature 5K community event that raises much-needed funds to end drunk driving deaths and injuries, which affect teens across the country.
The 2014-2015 National Teen Influencer Group members are:

Dakota Baker, 10th grade, C.A. Gray Junior High School, Norman Park, GA
Stormey Barton, 11th grade, Hyde Park High School, Austin, TX
Kassidy Brown, 12th grade, Lufkin High School, Lufkin, TX
Sarah Haiken, 11th grade, Half Hollow Hills High School East, Melville, NY
Kenya James, 12th grade, Denham Springs High School, Denham Springs, LA
Lauren "Alex" Otte, 12th grade, Trinity Christian Academy, Lexington, KY
Ashley Persson, 12th grade, Temecula High School, Winchester, CA
Madison Romeo, 11th grade, Lambert High School, Suwanee, GA
Hollywood Ruch, 12th grade, Mechanicsburg High School, New Cumberland, PA
Cady Snell, 12th grade, Rocky Mountain High School, Meridian, ID
The National Teen Influencer Group is part of MADD's underage drinking prevention program, Power of You(th) nationally presented by State Farm®, which is designed to equip teens with information and resources to help them avoid drinking alcohol before 21. Now in its third year, the National Teen Influencer Group was established to work closely with MADD national staff to shape and create initiatives to empower teens to not drink before 21 or ride in a car with someone who has been drinking. This group provides a voice for underage drinking prevention across the country and serves as role models for their peers, as well as offers an invaluable youth perspective to ensure MADD's national programs resonate with teens and have a positive impact on teen behavior.
About Mothers Against Drunk Driving
Founded by a mother whose daughter was killed by a drunk driver, Mothers Against Drunk Driving® (MADD) is the nation's largest nonprofit working to protect families from drunk driving and underage drinking. With the help of those who want a safer future, MADD's Campaign to Eliminate Drunk Driving® will end this danger on America's roads. PowerTalk 21® is the national day for parents to talk with their kids about alcohol, using the proven strategies of Power of Parents® to reduce the risk of underage drinking. And as one of the largest victim services organizations in the U.S., MADD also supports drunk and drugged driving victims and survivors at no charge, serving one person every 8.6 minutes through local MADD victim advocates and at 1-877-MADD-HELP. Learn more at http://www.madd.org or by calling 1-877-ASK-MADD.
# # #