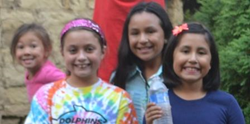 "One of the best lines of the day was from a 5 year old boy who said, 'We should go to 100 houses!' The joy that we all felt in serving our local community that day was very real & tangible," said Saira Herboth, instructor at Everest Academy.
Lemont, IL (PRWEB) September 30, 2014
On a beautiful Sunday afternoon as part of Everest Academy's apostolic outreach program, several families from Everest Academy in Lemont chose to serve others in the community by lending a helpful hand providing yard work including maintenance and seasonal clean-up for several families in the community who are no longer able to maintain their property. The cutting and removal of an ash tree off of one of the family's properties also took place.
Young children carrying twigs and branches twice their size, clippers, hedge trimmers, and leaf blowers were images that came to mind when Jennifer Bohren, an Everest mom from Orland Park, whose family participated in the event, described the afternoon.
"It was a beautiful picture and a perfect way to spend a Sunday afternoon," said Mrs. Bohren. "It was amazingly perfect! The kids genuinely and naturally worked as a team to help needy families… it was beautiful!"
Teaching the students to have a "Heart for Service" is all a part of the Integral Formation® taught at Everest Academy. The monthly apostolic outreaches provide practical hands-on experiences where students are able to develop the necessary human qualities that will help them grow and form into strong Christian leaders.
Saira Herboth, Faith Formation Instructor at Everest, explained, "By promoting such activities we are helping our students and families at Everest to see the world through the eyes of Christ, hoping to cultivate a response to the greatest needs around us. Together we can do great things! I hope that the missions this year continue to be a great success for all those involved!"
'Family Mission Days' at Everest Academy, meets the third Sunday of every month. It coordinates and organizes enriching activities for the Everest community where they can serve, support, work and help others. Partnering up with Mission Stay through the Hope and Friendship Foundation was a synergy of efforts and great success.
The Everest families teamed up with the Lemont based Hope and Friendship Foundation whose mission is to extend a hand of friendship to those in financial, emotional, or physical crisis. Mission Stay keeps the volunteer efforts in Lemont helping a local family or person in need. The impact of such giving is immediately obvious in the work accomplished, and often has an unknown ripple effect of goodness and kindness that is carried forward. It also benefits the individuals and the families who are contributing their time and talents.
"The impact is much greater when the whole family participates and it's done outside of the classroom," said Sue Zabilka long time parent of the school. "Some of our family's best memories were service projects that we participated in together and seeing that it is possible to make a difference right in our own neighborhood."
Everest Academy is an independent Roman Catholic school in Lemont educating children from preschool through eighth grade. The teachers and staff are dedicated to forming the whole child by providing the highest level of academics, by building strong character, and by preparing generous leaders ready to serve the community. If you would like to learn more about Everest Academy's unique approach to education, please contact KC Wollenberg at 630-243-1995 or visit http://www.everestadvantage.org.