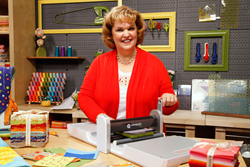 "We are excited to work with Craftsy on this online class. We couldn't ask for a better instructor than Kimberly Einmo. Her over 20 years of experience in quilting education and down-to-earth teaching style made her a natural choice to teach the class."
OMAHA, NE (PRWEB) October 01, 2014
AccuQuilt has partnered with Craftsy to create the online class Amazing Appliqué, which shows students how to make three beautiful appliqué projects using the fast and easy GO! Fabric Cutter and GO! appliqué dies.
Teaching the class is professional quilter and expert instructor, Kimberly Einmo.
"We are excited to work with Craftsy on this online class. We couldn't ask for a better instructor than Kimberly Einmo. Her over 20 years of experience in quilting education and down-to-earth teaching style made her a natural choice to teach the class," said Steve Nabity, AccuQuilt's chief energizing officer.
The Amazing Appliqué class consists of seven video lessons on how to make the Lotsa Dots and Good Morning Sunshine quilts, a custom-fit sewing machine cover, and how to use Einmo's signature stitch-stacking techniques. Students can watch the videos at any time since their access to the class never expires. Each class segment runs approximately twenty minutes long.
To help promote the Amazing Appliqué class, AccuQuilt is offering up to $10 off GO!® appliqué dies through the month of October. With over 90 appliqué dies to choose from on accuquilt.com, consumers will find many great inspirational options to create a multitude of projects.
About AccuQuilt—Better Cuts Make Better Quilts
Headquartered in Omaha, Neb., AccuQuilt offers quilters, fabric crafters and retailers a premiere line of fabric cutters, dies, quilting patterns and other quilt and fabric cutting solutions that help quilters quickly and accurately cut shapes for quilting and fabric crafts. AccuQuilt also offers quilters a wide variety of rich educational resources to enhance their quilting experiences. Cutting with AccuQuilt cutters is a natural evolution of fabric cutting methods. "First scissors…then rotary…finally…AccuQuilt" for fast, easy, accurate fabric cutting. For more information, visit accuquilt.com or call 888.258.7913.