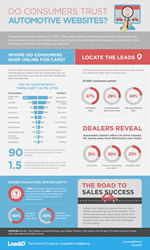 Philadelphia, PA (PRWEB) September 30, 2014
A new survey released by LeadiD has revealed the most trusted third party auto websites, as well as information surrounding both consumer and auto dealer behavior when it comes to shopping and buying leads. Most notably, consumers are more likely to visit a third party auto website than a manufacturer's site when considering a purchase or lease; however, 40 percent of auto dealers say that they are still not buying leads from these sites.
Topping the list of most trustworthy sites according to consumers are:
1) Kelley Blue Book
2) AutoTrader
3) Edmunds
4) Cars.com
5) Car and Driver
According to Auto Trader Group, the average car shopper spends more than 11 hours online researching cars and only three-and-a-half hours offline, including trips to the dealership. Due to the fact that consumers are spending this much time online, the perception of trustworthiness is of the highest importance.
"Consumers are much more likely to share accurate, personal information with third party sites that they trust," said LeadiD founder and CEO, Ross Shanken. "This is a win-win for both the third party sites who sell leads and the auto dealers who purchase those leads."
The most common reasons given for the discrepancy between the large numbers of consumers visiting third party auto websites and 40% of auto dealers saying that they are still not buying leads from these these sites were: low quality (31 percent), focus on the generation of their own leads (30 percent) and unreliable data (23 percent).
"Due to the fact that many leads generated from third party sites tend to be re-sold multiple times and also contain inaccurate customer information, auto dealers have been steadily moving away from purchasing these leads, although consumers are still flocking to these sites," said Shanken.
To improve the online automobile experience, LeadiD validation ensures quality leads, allowing dealers to reach their consumer audience in the correct outlets. In 2013, LeadiD increased the number of lead transactions it monitors by 340 percent, to more than 100 million per month, supported by adoption of its platform by more than 350 publishers. Clients are also seeing success, reporting significant performance improvements such as a 120 percent increase in contact ratios.
*Survey methodology- 191 Auto Dealers were surveyed through Auto Dealer Monthly email blasts and 1,004 adults over the age of 18 were surveyed through ORC International Omnibus Survey.
About LeadiD
LeadiD is the customer acquisition intelligence platform that provides marketers with the trust and transparency to make smarter decisions and take real time action based on verified data. It is the only independent, neutral, open technology platform that allows marketers to know the certified origin, history and network intelligence of every 1st or 3rd party lead – creating a standard data currency for the lead generation ecosystem to communicate and optimize. LeadiD's comprehensive AppMarketplace offers plug-and-play solutions for TCPA compliance, fraud detection, data validation, scoring, and more. For more information, visit LeadiD.com.