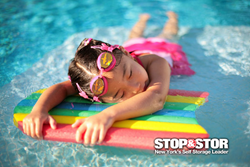 It's time to make room for rakes and shovels, instead of tiki lamps and pool cleaning supplies.
New York, NY (PRWEB) September 30, 2014
Hurry! Fall is almost here in NYC, it is time to think about what to do with all of those summer toys and gear laying in the backyard or garage. Pool season is basically over, so why waste anymore time tending to it and all the stuff that comes with it? Keep those pool toys, floats, pool noodles, hoses, ladders and skimmers in a safe, secure place where they'll be as good as new next season. There's no point in losing space around the home that could be used for other things. Instead of cramping up the home or shed with unneeded pool gear, think about storing precious belongings at a state-of-the-art self-storage company like Stop&Stor. Their one-of-a-kind Drive Through buildings make drop-off and pick-up a breeze.
It's time to make room for rakes and shovels, instead of tiki lamps and pool cleaning supplies. The winter has its own set of toys to consider! Swap out surfboards for snowboards, and jet skis for snowmobiles. And once the Winter is over, swap back! There is no need to store everything in one place at the same time; spread everything between the home and a storage unit to save space. It will be worth the convenience over time. Never worry about items until they are needed, everything is secure and under-surveillance 24/7.
The crisp air means that morning frost and hard freezes are just around the corner. Before throwing tarps over the patio furniture and shoving things in the garage, think about using a storage facility to help de-clutter the home this fall. Stop&Stor's climate-controlled, drive-thru storage facilities are world-class, and the ideal spot to stash summer household items.
Here's a pool storage and Fall storage checklist:
1. Patio furniture storage: That comfortable canvas on the recliner isn't meant for soaking up freezing rain, and snow on plastic chairs makes them brittle come spring. Give the backyard seats a break so the winter doesn't break them.
2. Gardening Storing gardening equipment: This won't be necessary for a while, so store that equipment where it's safe from the elements. This is a good excuse to give it all a quick cleanup and get that spring chore out of the way early.
3. The kids' pool and assorted toys: Roll up the slip 'n slide, pack up the kiddie pool, and deflate the beach balls. All these things will keep better in a storage unit.
4. Storing pool equipment: Filters and hoses fit in the pool house, but freezing temperatures take a toll on everything from plastic to canvas, so don't risk the investment. Move these things to a storage unit, and they'll be in great shape come spring.
5. Storing the barbecue grill: This is a hard call, but will your barbecue grill be used when it's freezing outside? Clean up the grill, and store it away so critters won't make it their winter home.
6. Coolers Storing coolers and ice chests: Technically, they're part of camping gear, but these handy haulers do double duty in a storage unit. They make great air-tight containers for just about anything, and they're out of the way when they're in storage.
At the first freezing rain or snow, it will have been well worth it to invest in winter self storage. Everything will be safe until spring, the car will still fit in the garage, and the closets will have plenty of room for hiding Christmas presents.