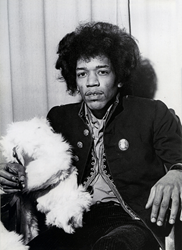 "It's not every day that you can auction Jimi Hendrix negatives and the copyrights from the first documented and official photo shoot - that's every fan or collector's dream," says van Gool.
Houston, Texas (PRWEB) October 01, 2014
Backstage Auctions is proud to present the annual "Rock n Pop Auction". The online event, which is scheduled to end this Sunday, October 5th, features amazing pieces of rock history direct from the personal collections of artists, producers, managers and photographers including, Ian Wright, Derek Holt, John Kosh.
"This year's rock and pop auction truly has a little bit of everything – from rare photos to touring memorabilia – we are highly excited about so many rare but highly personal items from both musicians and industry executives," explains Backstage Auctions founder Jacques van Gool.
There is definitely a wide range of collectibles featured in the auction including 26 collectible guitars, concert photos and negatives, original album cover production artwork by Kosh, artist signed items, RIAA records awards, recordings, collection of import vinyl, rare concert posters, original Bill Graham Presents concert and event t-shirts, historical ephemera, picks & sticks and the list goes on.
Spanning several decades of rock and pop history, the items up for auction are definitely iconic pieces that collectors and fans will be impressed with. "It's not every day that you can auction Jimi Hendrix negatives and the copyrights from the first documented and official photo shoot - that's every fan or collector's dream," says van Gool. The Hendrix photos are part of a large collection that comes directly from British photographer,Ian Wright and further includes The Beatles, Rolling Stones, Elton John, Johnny Cash and more.
One collection that is sure to steal a huge chunk of the spotlight is the Derek Holt collection, with consignments of rare (and some never before seen) pieces of Climax Blues Band history – all coming directly from Holt's personal collection. "And not to be overlooked are the hundreds of vintage concert and event t-shirts from the personal estate of Steve Kahn, who was a legendary Bill Graham Presents employee," says van Gool.
Giving fans and collectors direct access to authentic and rare pieces of rock history has always been the goal when we build our auction events, and this year's Rock and Pop Auction is no exception. This is a not-to-miss opportunity for fans and collectors around the world to own an authentic piece music history. For more information and to get your VIP All Access Pass for the event visit http://www.backstageauctions.com.
The online auction is currently live and is scheduled to end Sunday, October 5, 2014.
For more information:
Backstage Auctions
press(at)backstageauctions(dot)com
Backstage Auctions is a boutique online auction house specializing in authentic rock memorabilia. By exclusively representing legendary musicians and entertainment professionals directly, every auction event is unique, reflecting the artist's legacy and chronicles their legendary career. Backstage Auctions has represented dozens of notable and very talented musicians, producers and managers in the music industry for over 10 years. The very first online auction event featured the private collection of legendary producer Eddie Kramer (Hendrix, Zeppelin, Kiss) and since then, Backstage has represented Ted Nugent, Howard Kaylan (The Turtles), Ross Valory (Journey) and Michael Shrieve (Santana) Johny Barbata (Jefferson Starship), Kip Winger (Winger), John 5 (Marilyn Manson, Rob Zombie), Al Jourgensen (Ministry), Rudy Sarzo (Quiet Riot, Whitesnake, Dio, BOC), Scott Rockenfield (Queensryche), Graham Bonnet (Rainbow, Alcatraz), Scott Ian (Anthrax), Charlie Benante (Anthrax), David Ellefson (Megadeth) Sean Yseult (White Zombie) as well as managers of legendary bands such as The Grateful Dead, Jefferson Airplane, KISS, Journey, Joe Walsh, Pantera, White Zombie, Ringo Starr and His All Starr Band and Motley Crue. Backstage Auctions works closely with each client and incorporates their personal stories and memories throughout the online auction event. The end result is a unique, historical and unforgettable journey spanning decades of music history and turning fans into collectors - one auction at a time.