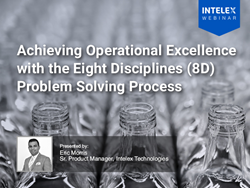 Toronto (PRWEB) September 30, 2014
Intelex is extending an invitation to quality professionals across all industries, to attend an exclusive online event, Achieving Operational Excellence with the Eight Disciplines (8D) Problem Solving Process.
When an organization encounters a quality issue, it needs to be addressed immediately. The issue also needs to be examined thoroughly in order to prevent recurrences. While discovering the root cause may take time, it allows the organization to apply a permanent corrective action which will further optimize business processes. Unfortunately, more often than not, quality professionals find themselves trapped in reactive, inefficient procedures, which if not improved can lead to severe business repercussions. In order to ensure a proactive quality management process, quality professionals across all industries are turning to an approach that many in the automotive and manufacturing sectors have been using successfully for some time: the Eight Disciplines (8D) Problem Solving process.
"The 8D Problem Solving process is considered one of the most effective and widely used problem solving processes by quality professionals," says Eric Morris, Sr. Product Manager at Intelex. "Our new solution for nonconformances and product defects incorporates this proven approach into your processes, allows for continuous improvement and establishes a proactive quality management program."
In the webinar, Morris will lay out the benefits of a proactive approach to quality using the 8D method, from successfully identifying root causes and eliminating recurring problems, to globally communicating lessons learned across multiple locations. Interested quality executives are invited to attend this exclusive event Thursday, October 2nd at 2:00 EST. Please visit Intelex.com to sign up for more information.
-30-
About Intelex: With more than 850 clients and 750,000 users, Intelex Technologies Inc. is a global leader in environmental, health, safety (EHS) and quality management software. Since 1992 its scalable, web-based platform and applications have helped clients across all industries improve business performance, mitigate organization-wide risk, and ensure sustained compliance with internationally accepted standards (e.g. ISO 9001, ISO 14001 and OHSAS 18001) and regulatory requirements. Intelex is one of Canada's most highly awarded and fastest-growing tech companies and has been named one of the Best Managed Companies in Canada, one of the fastest growing companies in PROFIT Magazine, as well as one of the country's top employers by Aon Hewitt and Best Small and Medium Employers. For more information, visit http://www.intelex.com.