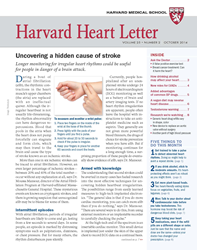 Boston, MA (PRWEB) October 14, 2014
The rapid, irregular heartbeat known as atrial fibrillation is a key cause of stroke. New research suggests that it's to blame for more strokes than doctors realized, and that simply measuring the pulse could help detect unrecognized atrial fibrillation and avert a second stroke, reports the October 2014 Harvard Heart Letter.
Atrial fibrillation can come and go, lasting from a few seconds to several days. Some people have distressing symptoms such as palpitations, dizziness, or chest pressure. For many others, atrial fibrillation passes silently. Either way, blood can pool in the heart's upper chambers, or atria. This stagnant blood can form clots, which can then travel to the brain and cause a stroke.
After an unexplained stroke, most people without signs of atrial fibrillation leave the hospital with instructions to take an antiplatelet medicine such as aspirin. They generally aren't instructed to take a more powerful blood thinner, the best type of drug for preventing stroke in people with atrial fibrillation.
Checking the heart rhythm for weeks or months after a stroke could detect atrial fibrillation that comes and goes. "The general idea is that if you do more cardiac monitoring, you can catch more atrial fibrillation than if you do nothing," says Dr. Moussa Mansour, director of the Atrial Fibrillation Program at Harvard-affiliated Massachusetts General Hospital and associate professor of medicine at Harvard Medical School. Detection, and the treatment that follows, can help prevent stroke.
There are high-tech options for doing this, like a heart monitor implanted just under the skin of the upper chest. But even simply measuring and monitoring a wrist pulse can be helpful. In a study published in the journal Neurology, training stroke survivors or their family members to feel the pulse for fluctuations in heart rate and rhythm is a surprisingly accurate way to detect atrial fibrillation.
Read the full-length article: "Uncovering a hidden cause of stroke"
Also in the October 2014 issue of the Harvard Heart Letter:

Rethinking alcohol use and heart disease
Blood pressure drugs with bonus benefits
Halt heart disease with a plant-based, oil-free diet
The Harvard Heart Letter is available from Harvard Health Publications, the publishing division of Harvard Medical School, for $20 per year. Subscribe at http://www.health.harvard.edu/heart or by calling 877-649-9457 (toll-free).
XXX
Media: Contact Kristen Rapoza at hhpmedia(at)hms(dot)harvard(dot)edu for a complimentary copy of the newsletter, or to receive our press releases directly.