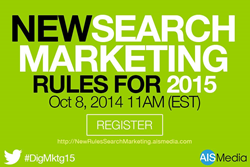 "86% of buyers begin their buying process with a non-branded search."
Atlanta, GA (PRWEB) October 01, 2014
Part 2 of 6-part Digital Marketing Webinar Series, AIS Media Inc., will reveal the "must-know "marketing tactics for SEO. With more and more consumers searching via mobile devices, marketers need to know what mobile search is and how it impacts website traffic. This shift to constant connectivity is transforming how marketers connect with people and how they search. The possibilities are incredible. The opportunity is huge. The time is now. Join AIS media on Wednesday October 8, 2014 and 11:00 am (EST) and learn how to keep up in 2015. The agenda includes:

SEO Best practices to boost search engine rankings and maximize ROI
Google's 2014 search algorithm rules
How social media propels SEO rankings
How mobile search works and what to do
Align your content marketing with SEO for explosive results
And much more!
Details and registration: http://newrulessearchmarketing.aismedia.com/
Sign up today and become an expert yourself through AIS Media's "New Digital Marketing Rules 2015" webinar series. Gain insights on unique digital challenges marketing professionals face, how to accelerate the customer journey and amplify the performance of digital lead generation programs.
About AIS Media
AIS Media, Inc. is an Atlanta-based award-winning strategic digital marketing agency. Founded in 1997, AIS Media has helped hundreds of clients amplify digital marketing performance including the world's top brands, companies and organizations. For more information visit http://www.aismedia.com