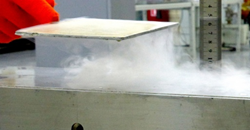 "We have changed the rules of the game." - Andrey Vavilov
(PRWEB UK) 10 October 2014
A new superconducting material from SuperOx could revolutionise MagLev (magnetic levitation) devices, making production considerably easier, cheaper and more effective.
Chairman of the Board of Directors of SuperOx, Andrey Vavilov, succinctly summed up the impact of the new superconducting tape on the MagLev industry: "We have changed the rules of the game."
The Predecessor
Prior to this new invention, the high temperature ceramics (HTS) that were necessary for magnetic levitation took approximately 4 months to create. The products themselves – which could not be manufactured in large quantities - were brittle, with a high amount of rare earth materials. This proved an expensive, time-consuming and ineffective method of creating high temperature ceramics.
Despite their disadvantages, the high temperature ceramic technology has been used in prototypes for Nexans/Siemens, for magnetic bearings; Boeing, for flywheel energy storage; Evico GmbH, for transport systems; and FESTO, for contactless manipulation devices. As can be seen by these prototypes, a new, more effective technology was much needed by the MagLev industry.
The Technology
SuperOx's new technology utilises 2G high temperature superconductors (HTS) in tapes, with the ability to create multi-layered products that can take the form of thin plates, cylinders or bricks to suit the end needs. These products can lift more than 35kg using only 20 metres of the high temperature superconductive tape, a remarkable feat.
The technology is far more advanced than the high temperature ceramics, using very low amounts of rare earth materials but having a high conductivity performance. The manufacturing process is quick and relatively easy in comparison to the technology's predecessors, making this a significant step forward for the MagLev market.
SuperOx is developing further technology that should be able to levitate a load of 100kg within the near future, with a 1 tonne load being the more distant goal.
The Results
Magnetic levitation that is stable can only be created with the use of superconducting materials, making progress very necessary for effective growth in the market. By using this new technology, companies in the sector will be able to use high temperature superconducting materials in whichever formulation they require, and it will be far more economically sound than previous methods.
As Chairman Andrey Vavilov said, the whole MagLev market will be significantly bettered by the introduction of this new product, making this breakthrough a real success.
About SuperOx and Chairman Andrey Vavilov
Founded in 2006, SuperOx has developed from a high-tech start-up organisation into one of the foremost high temperature superconductor producers in the world. It has a number of products utilising its amazing technology, the high temperature superconducting tape. Its Chairman of the Board of Directors, Andrey Vavilov, has overseen the development of the company into an internationally recognised intensive research and production company.