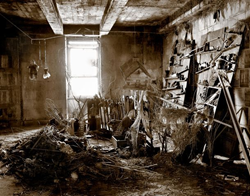 We want to encourage social media users to get in the Halloween spirit and have some fun with this.
(PRWEB) September 30, 2014
RealEstateAgent.com has launched their Pin It to Win It "Ugly House" Sweepstakes through Pinterest, offering a grand prize of a "room makeover" from IKEA.
The "Ugly House" Sweepstakes launched on Sept. 24 and will end at 11:59 p.m. Eastern Standard Time (EST) on Oct. 31, 2014. All entries must be received before the deadline to be eligible to win.
To enter the sweepstakes, first follow RealEstateAgent on Pinterest. Then, on your own Pinterest account, create a new board titled "RealEstateAgent.com Ugly House Sweepstakes." Pin some photos of the ugliest room/part of your home, and tag RealEstateAgent's Pinterest account. Next, pin your favorite pins from RealEstateAgent's Pinterest boards that showcase dream home renovations. Finish by pinning activities about how you would modify, improve or sell each house. Each pin must include a brief description, along with #REAWinner and #MyUglyHouse.
The winner will receive a $500 IKEA gift card, and the prize must be redeemed on or before Nov. 15, 2014. The winner will be selected by a panel of three judges. The judges will be looking for the person who follows the rules most closely, puts creativity in their captions, and gets people to engage with, repin and like their photos. The winner will be announced within 72 hours after the sweepstakes end time.
The RealEstateAgent.com "Ugly House" Sweepstakes is open to individuals who are legal residents of the 50 United States and are 18 years of age or older. Commercial enterprises and business entities are not eligible.
If the required hashtag(s) are not used in the description of each pin, the entrant's pin will automatically be disqualified from the sweepstakes. If an entrant's Pinterest account is set to private and his or her photo entry cannot be retrieved, the entry will be considered invalid and the entrant will be disqualified from the sweepstakes.
"As Halloween gets closer, we decided to play off of this a little with our Ugly House Pinterest Sweepstakes," said Theresa Hus of RealEstateAgent.com. "We want to encourage social media users to get in the Halloween spirit and have some fun with this."
All entrants must adhere to the official Terms and Conditions which can be found on RealEstateAgent's website.
About RealEstateAgent.com
Researching agents online gives you more insight into different types of agents that are both local and available in your state. Since 2003, RealEstateAgent.com has made the home buying and selling process easier for agents, realtors and especially, first-time home buyers. With hundreds of professionals to choose from before making a decision, the next time you're in the market, compare listings and simplify the process at RealEstateAgent.com.
For more information, contact Theresa Hus at 1-866-495-4953 x0 or email info(at)realestateagent(dot)com.
###