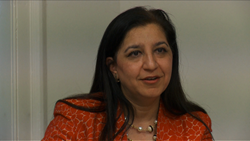 This survey aims to collect this data and analyse it. Over the coming months, I am providing information to the Muslim community about the essential need to register their UK marriages.
London, United Kingdom (PRWEB UK) 1 October 2014
Head of Duncan Lewis Islamic Law department and Family Solicitor Aina Khan has today released a unique survey to gather vital information about UK Muslim marriages in line with her Muslim Marriage Project.
The survey is part of the Muslim Marriage Project launched by Aina earlier this year. It is aimed at Muslims who were married in the UK and asks essential questions such as:
> Is your Islamic marriage registered under UK law?
> Are you aware that an unregistered marriage does not give you any legal rights under UK law?
Aina has recently appeared on BBC's Inside Out West and BBC Radio Gloucestershire to talk about the topic of unregistered Muslim Marriages in the UK. Her own experience is that over 80% of British Muslims under age 30 have an unregistered Muslim marriage.
Aina told BBC Inside out Reporter Charlotte Callen that "thousands of British Muslim women discovering that their marriages are not legal."
Aina added;
"There are currently no official figures on how many 10,000s are in unregistered marriages in the UK. This survey aims to collect this data and analyse it. Over the coming months, I am providing information to the Muslim community about the essential need to register their UK marriages. I have clients who have lost £100,000s of life savings investing in a family home, or suffered horrific human rights abuses during marriage and after separation. None of this would have happened if the marriage were legally registered. Until we can get the marriage law changed to cover all religions, it is up to Muslims to protect themselves".
The Survey, which takes only 10 minutes to complete can be found by clicking here or through the Duncan Lewis Solicitors website. It will also be sent to mosques, women's groups, Sharia councils and other groups across the UK.
Aina hopes to collect information from at least 100 responses per month over the next year. The survey will form part of a large research project in 2015. The information gained from these will help Aina target the areas that needs to be treated to ensure that Muslims obtain their matrimonial rights under UK law.
Aina invites you to contact her if you have any questions and encourages you to promote the survey to your contacts. Direct line (020) 7923 8468.
Aina Khan and Duncan Lewis Solicitors will be running a series of nationwide road shows in the coming months, as well as a social media campaign, providing vital information on unregistered marriages.
About Aina Khan
Aina Khan is Head of the Islamic Law Department at Legal 500 recommended law firm Duncan Lewis Solicitors. She is recognised as the leading specialist in Islamic Law in the UK.
Aina regularly makes TV, radio and press appearances. She has also advised parliamentarians and academics on Islamic Law and frequently speaks at the Houses of Lords and Commons as well as lecturing at Universities and community events.
About Duncan Lewis
Duncan Lewis, established in 1998, is the largest civil legal aid practice in the UK and one of the country's fastest growing firms of solicitors, serving both corporate entities and private individuals from offices across London and throughout the UK. A recommended leading law firm by Law Society Lexcel, Legal 500; Duncan Lewis employs over 500 members of staff and was the first law firm to achieve the Investors in People Gold Quality Standard Mark in 2009. Representing over 25,000 clients per year, the company has an excellent reputation in the Administrative Court, High Court and Court of Appeal in the Immigration, Public law and Family/Child Care jurisdictions.
Established areas of law are: business immigration, child care, civil liberties, clinical negligence, community care, crime and fraud, dispute resolution, debt and insolvency, employment, family and divorce, housing, asylum and immigration, litigation, mental health, personal injury, prison law, professional negligence, public law and administrative law, regulatory matters and welfare benefits.