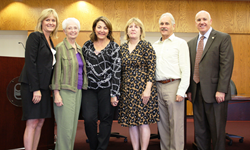 The Walsh Family Scholarship will support STEM students who have chosen to pursue programs of study at Sierra College that lead to high-wage employment.
Rocklin, CA (PRWEB) October 01, 2014
To help build the pipeline of students prepared for highly skilled advanced manufacturing jobs in our community, Placer Community Foundation has established the John G. and Lillian M. Walsh Family Scholarship focused on Science, Technology, Engineering and Math (STEM) for students residing in the Auburn area who enroll at Sierra College.
A full-time student in Mechatronics, Engineering, Welding, Drafting Engineering Support or Construction & Energy Technology could be awarded up to $1000 per year for tuition, books and instructional supplies. Part-time students may qualify for smaller scholarships in these programs of study. The scholarships will be awarded prior to the 2015-16 school year.
According to Veronica Blake, CEO, Placer Community Foundation, the decision to focus on specific Career Technical Education programs that prepare students for employment in the manufacturing sector was influenced by a Valley Vision Report, Next Economy: Workforce Development Recommendations for the Advance Manufacturing Industry Cluster.
"The Walsh Family Scholarship will support students who have chosen to pursue certificates and degrees in programs of study that lead to high-wage employment in our region," said Blake. "Employers have indicated that there are plenty of career opportunities for students who have gained technical skills at Sierra College."
Willy Duncan, Superintendent/President, Sierra Community College District, explained that interest is strong in programs that lead to employment in manufacturing and engineering-related pathways at Sierra College.
"Mechatronics, Engineering, Welding, Drafting Engineering Support and Construction & Energy Technology are high demand courses and we applaud the Placer Community Foundation for their support of students in these critical fields," said Duncan. "This scholarship will make a real difference to students striving to complete their degree or certificate and open doors to employment opportunities right here in our community."
Carol Pepper-Kittredge, Center for Applied Competitive Technologies(CACT) Director, Sierra College, is the Deputy Sector Navigator for Advanced Manufacturing in the region and manages the Sierra STEM Collaborative that connects high schools with the college. "Over 1,000 high school students from Del Oro, Placer and Colfax high schools take technical hands-on coursework each year, and we hope this scholarship will help inspire and support them as they continue their education at Sierra College," said Pepper-Kittredge. "To assess the effectiveness of the scholarship, the CACT will assist with a quantitative study and conduct a qualitative evaluation of each cohort of student scholarship recipients."
The scholarship review committee will include a Career Technical Education administrator, the CACT director, faculty members and industry representatives. The Sierra College Foundation will manage the annual account and the Sierra College Financial Aid Office will oversee operations. Students can learn how to apply from their college and high school counselors as well as school websites, starting in 2015.
About Placer Community Foundation
Placer Community Foundation (PCF) grows local giving to strengthen our community by connecting donors who care with causes that matter. Known for sound financial management and knowledge of the nonprofit sector, the Community Foundation continually monitors the region to better understand the nature of local needs, so that it can invest in areas such as arts and culture, education, health and human services, and the environment. The Community Foundation provides regular trainings and technical assistance for the many local nonprofits that are experiencing growing public demand for programs and services. To learn more about establishing charitable funds, visit placercf.org, contact Veronica Blake at vblake(at)placercf.org, or call 530-885-4920.
About the Walsh Legacy
Marian Vade Walsh was the fourth generation of her family to make Auburn her home and her passion. Born in 1924, Marian was instrumental in bringing the Main Street Program to downtown Auburn, and was known for her vibrant community spirit. As she had no heirs, she donated the proceeds from the sale of her Carmel home to establish the John G. and Lillian M. Walsh Family Scholarship Fund in honor of her parents. Marian passed away in 2006, at the age of 81, and her bequest provides scholarships for students in the Auburn area.
About Sierra College CACT
Sierra College Center for Applied Competitive Technologies (CACT) is focused on Advanced Manufacturing and is funded through the Workforce and Economic Development program of the California Community College Chancellor's Office. Since 1992, the Sierra College CACT has provided customized training in lean, process improvement, zero waste, supervision, workplace software, communication and many other topics for organizations, manufacturers and technology companies throughout Northern California. For more information, contact Carol Pepper-Kittredge at training(at)sierracollege.edu or 916-660-7801.