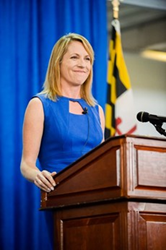 You embody the character and vision necessary to lead Garrison Forest into the next, dynamic chapter in our history.
Owings Mills, MD (PRWEB) September 30, 2014
On September 19, nearly 750 faculty, staff, students, alumnae, trustees, parents and friends far and wide were present for the Installation of Garrison Forest School's (GFS) 10th Head of School, Dr. Kimberley ("Kim") J. Roberts. The ceremony was a celebration of Dr. Roberts and marked the beginning of her leadership in taking GFS into the next chapter of the school's 103-year history.
The program included Trustee Lila Boyce Lohr '63, co-chair of the Search Committee for the Head of School, The GFS Chamber Choir's stunning rendition of "Star-Spangled Banner," and David DiPietro, President of the Board and GFS parent.
Senior Jillian Newton, President of the School, offered leadership advice to Dr. Roberts in her remarks: "As a leader, I have learned that if people can laugh and smile around you, you see people for who they truly are. And when the foundation is genuine, you accomplish incredible things together." The program also included one of Dr. Roberts' favorite poems, fittingly titled "The Forest" by acclaimed poet Leslie Williams, a friend of Dr. Roberts from their graduate school days at the University of Virginia.
Keynote speaker Nanci Z. Kauffman, Head of School at Castilleja School (Palo Alto, Calif.) where Dr. Roberts was Assistant Head of School and Director of Advancement prior to her appointment at GFS, began her address by explaining how Dr. Roberts' selection as the 10th Head of Garrison Forest School was hardly a surprise to anyone at Castilleja: "Among those who know her best, there was not even a shadow of a doubt that everything Kim had done throughout her life and career had prepared her for this moment."
Dr. Roberts' remarks encapsulated her reflections from her first few months at GFS and the qualities of the "Garrison Spirit," which drew her to the school and connect generations of alumnae and students. "These are the foundational threads of the Garrison Forest experience," said Kim, "Community, support, spirited engagement, and most importantly, the emphasis placed on encouraging girls to self-actualize. This is a powerful and magical legacy to inherit as a new Head of School."
Dr. Roberts, Ph.D. was announced as the 10th Head of Garrison Forest School in Fall 2013; her appointment became effective July 1, 2014. Kim was the Assistant Head of School and Director of Advancement at her alma mater Castilleja School, an all-girls school (grades 6-12) in Palo Alto, Calif. She returned to Castilleja in 2009 after a six-year tenure as the Director of Development at Saint Mark's School, a K-8 school in San Rafael, Calif. Kim obtained her B.A. from the University of California at Berkeley, M.A. from Mills College and Ph.D. from the University of Virginia—all in English Literature. During her nine years at UVA. she taught literature as a graduate instructor in the English department and adjunct Assistant Professor in UVA.'s Studies in Women and Gender Program. She founded and directed the Young Women Leaders Program, a mentoring program for adolescent girls from under-resourced communities, which today operates at 12 sites nationally and internationally. In addition, she was the Director of Diversity and Advocacy Programs for the University's Women's Center. At Castilleja, Kim was responsible for managing all advancement and fundraising efforts and driving strategic initiatives, interdisciplinary programs and external relations. She directed the school's Partnership for 21st Century Assessment and taught A.P. English Literature and Sophomore English at the school.
She is board president at Now & Next Dance Mentoring Project in Washington, D.C., a board member for Palo Alto's Children's Health Council and Saint Mark's School and former chair of GirlSource in San Francisco. Kim founded the Halford Young Women Leaders Program and co-chaired the 2013 California Advancement Partnership for Schools Conference.
Kim and her family--Michael Laine, an attorney in project finance specializing in renewable energy and a native of Sussex County, Va., daughter Charley, GFS 5th Grader, and son, Ellis, 7-- live on campus as part of the GFS boarding community.