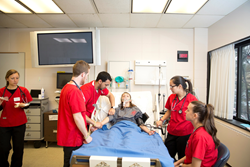 "There are not nearly enough primary care providers in the country, and nurse practitioners can serve that role," said Meredith Kazer, Ph.D., APRN, FAAN, professor and dean of Fairfield University's School of Nursing.
FAIRFIELD, Connecticut (PRWEB) September 30, 2014
Fairfield University's School of Nursing has received a federal grant to address the major need for additional primary care providers. To help meet this national and local need, the United States Health Resources and Services Administration (HRSA) has awarded the School of Nursing $605,000 to provide financial assistance to its students enrolled in its nurse practitioner programs. It's expected that the need for primary care providers will grow because more Americans are insured under the Affordable Care Act. Nurse practitioners are ideally suited to be primary care providers.
"Primary care has been shown to decrease mortality, emergency department visits, and hospitalizations," said Sheila Grossman, Ph.D. FNP-BC, APRN, FAAN, professor and coordinator of Family Nurse Practitioner Program at Fairfield. "Studies have demonstrated that nurse practitioners deliver quality primary care to patients and generate excellent outcomes including cost effectiveness. In many states including Connecticut, nurse practitioners can practice independently once they have three years of experience. In ten years it is estimated that approximately 250,000 nurse practitioners in the United States will be primary care providers but there will still remain a projected need for 20% more primary care providers."
Nurse Practitioners practice in multiple settings such as private practice, university and school based clinics, hospitals, urgent care, retail clinics, emergency departments, and community health care clinics.
"There are not nearly enough primary care providers in the country, and nurse practitioners can serve that role," said Meredith Kazer, Ph.D., APRN, FAAN, professor and dean of the School of Nursing. "This grant will ultimately help to funnel health care professionals to medically underserved and economically disadvantaged communities." The intent is for graduating Fairfield nurse practitioners to go on to work as health care providers in health professional shortage areas, such as Bridgeport, New Haven and Norwalk, Connecticut, Dr. Kazer said.
The majority of Fairfield's Family Nurse Practitioner and Psychiatric Nurse Practitioner students are working, raising families, and going to school at night. "Getting financial assistance from this grant could mean the difference between taking a course or two, or releasing them from the obligation to work full time so they can finish their degree faster," said Dr. Kazer.
The monies will also help the School attract more students from minority backgrounds into the nurse practitioner programs. All students in Fairfield's nurse practitioner programs are encouraged to apply for the financial assistance. The funds will be distributed over two years from HRSA's Advanced Education Nursing Traineeship Program.
For more information about Fairfield University's School of Nursing, visit http://www.fairfield.edu/academics/schoolscollegescenters/schoolofnursing//index.lasso or call (203) 254-4000, ext. 4150.
Fairfield University is a Jesuit University, rooted in one of the world's oldest intellectual and spiritual traditions. More than 5,000 undergraduate and graduate students from 36 states, 47 foreign countries, the District of Columbia and Puerto Rico are enrolled in the University's five schools. In the spirit of rigorous and sympathetic inquiry into all dimensions of human experience, Fairfield welcomes students from diverse backgrounds to share ideas and engage in open conversations. The University is located in the heart of a region where the future takes shape, on a stunning campus on the Connecticut coast just an hour from New York City.