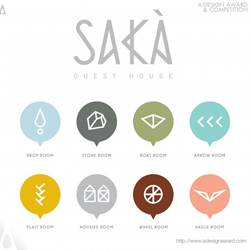 Como, Italy (PRWEB) September 30, 2014
A' Design Award and Competition is pleased to announce that the Prim Prim Studio won a renowned Golden A' Design Award at Graphics and Visual Communication Design Competition.
Prim Prim Studio, the creative team behind the award winning graphics work said "PRIM PRIM studio created visual identity for the guest house SAKÀ including: name and logo design, graphics for every room (symbol design, wallpaper patterns, designs for wall pictures, pillow appliques etc.), website design, postcards, badges, name cards and invitations. Each room in guest house SAKÀ presents a different legend associated with Druskininkai (a resort town in Lithuania the house is located in) and its surroundings. Every room has its own symbol as a keyword from the legend. These icons appear in interior graphics and other objects forming whole visual identity." Learn more about this project at: http://www.adesignaward.com/design.php?ID=29329
Design Team for SAKÀ
SAKÀ was designed by Graphics: PRIM PRIM studio – Migle Vasiliauskaite, Kotryna Zilinskiene. Interior: SPRIK architects - Ieva Cicenaite, Mantas Olsauskas, Mindaugas Reklaitis
The Golden A' Design Award
The Golden A' Design Award is a prestigious and internationally recognized design accolade given to the top 3% designs that take part in the A' Graphics Design Competition. Laureates are selected by an internationally influential jury panel of established press members, prominent design scholars and professionals. Entries are peer-reviewed and anonymously judged on predetermined evaluation criteria for fair judging. Laureates are given the coveted A' Design Prize which includes the award trophy, award winner logo license, yearbook, design exhibition and gala-night invitations in addition to a series of PR and Publicity services such as a feature in DXGN design magazine.
About A' Design Award and Competition
A' Design Award and Competition has a philantrophic goal to improve the quality of life in all countries by pushing designers and companies to create superior products and services that benefit society. Eacy year, participants from almost all countries take part in the competition by submitting thier creative works and design projects. The very best designs are highlighted in order to recognize good design as well as to help create a global understanding for good design practices and principles. Learn more about the A' Design Awards at http://www.whatisadesignaward.com