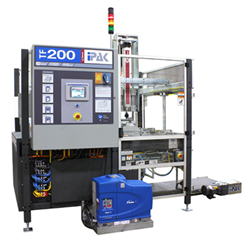 "IPak systems deliver stronger, more consistently formed, square and securely glued trays than any other machines in the industry" --Dyrl Nixon, IPak Product Manager
Richmond, BC, Canada (PRWEB) September 30, 2014
IPak, powered by Pro Mach, continues to strengthen its position as the leading solution provider for producing retail ready displays and other tray packages. IPak's compact, servo-based TF-200TQ creates high quality, aesthetically pleasing retail ready displays with rollover windows at speeds up to 32 trays per minute.
IPak's precise servos allow greater control of speed, monitoring, diagnostics, and sequence programming which translates into higher performance, with less packaging waste and increased cost savings. Less force during forming also allows softer handling, a quieter machine and more pleasing tray displays where aesthetics and performance are paramount.
Performance advantages and model enhancements include:

Active column pusher forces triangle corner posts to tray bottom for strong, aesthetically pleasing trays.
Dual parallel compression creates a complete bond across all glued portions.
Rollover display windows simultaneously created during tray forming for increased aesthetics and better flap bonding.
Optimal Motion System for precise blank handling without double picking.
Easy access air regulators for simple, fast adjustments.
Moisture resistant chrome shafting.
Nordson Liberty heat-on-demand glue system with integrated stainless steel feeder tank to reduce waste, char, downtime and energy consumption.
Enhanced filter regulator, and coalescing (FRC) system with two-stage filtration and moisture collection from air feeds without oil lubrication.
The TF-200TQ is fully adjustable to form various tray sizes and depths. Change-overs are clearly defined and repeatable with preset tray size recipes, color-coded dials and handles, and convenient on machine instructions. Size changes can be performed in less than 15 minutes. Common applications include fresh fruit and produce, snack foods, candies, stand up pouches and bags, bottled beverages, coffee, boxed food, hand wipes and other products in cartons and canisters.
"IPak systems deliver stronger, more consistently formed, square and securely glued trays than any other machines in the industry," said Dyrl Nixon, IPak Product Manager. "The TF-200TQ combines the latest technology and ergonomic design principles with IPak's years of experience in delivering high value, high performance tray formers. The result is a small footprint machine that delivers unequaled efficiency, performance, ease of use, and investment value."
The TF-200TQ tray former will be featured at Pack Expo International, November 2-5 in Booth 5331, North Hall.
About IPak Machinery and Pro Mach
IPak's fully automatic tray formers provide industry leading performance and reliability for heavy-duty applications. IPak products are part of Wexxar/BEL's full line of integrated case and tray forming and sealing solutions. The IPak engineering team includes tray specialists who understand container design and can identify the most subtle variations in automated tray forming. Their knowledge and expertise allows IPak to consult on plant or line layouts and container-style designs, and recommend optimal machine models for particular applications.
Pro Mach is a leading provider of integrated packaging and processing products and solutions for food, beverage, consumer goods, pharmaceutical, and other diverse companies. Through our brands, Pro Mach provides product packaging and processing equipment, PMMI certified training, installation, parts, and service in Bottling & Capping, Primary Packaging, Flexible Packaging, Material Handling, Identification & Tracking, and End of Line Packaging.
Pro Mach has a diverse customer base, from Fortune 500 companies to smaller, privately-held businesses worldwide, which depend on reliable, flexible, technologically advanced equipment and integrated solution sets. Pro Mach is headquartered near Cincinnati, Ohio with manufacturing facilities and offices throughout the United States, Canada, and Europe.
For more information about IPak Machinery and Pro Mach visit their websites at: http://www.IPakmachinery.com. and http://www.ProMachInc.com.