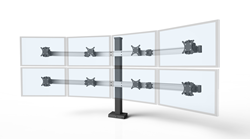 Bild offers each user a seamless interface while providing exceptional quality.
Easton, PA (PRWEB) October 01, 2014
Innovative Office Products (http://www.lcdarms.com) has officially launched the award-winning Bild™, a highly configurable multi-monitor solution that can mount two to 16 or more flat panel and touch screen monitors for enhanced productivity across any industry.
Bild offers endless configurability, allowing the user to build, adjust, and adapt with ease to fit their specific applications. This multi-monitor solution features a quick and easy monitor install to attach or remove monitors at the face of the beam without having to spend time sliding monitors off and on the monitor mount, making Bild an ideal solution for rapidly changing environments.
Keeping with Innovative's commitment to ergonomics and a healthy workplace, the Bild multi-monitor mount features a height-adjustable column and angled mounting system which allows the user to adjust and fine tune for optimal work comfort.
This configurable multi-monitor system was designed and engineered for maximum structural durability and aesthetic. Use of extruded aluminum ensures Bild will support two to 16+ monitors without drooping or loss of stability. Like all of Innovative's high quality products, Bild has been cycle tested to exceed BIFMA standards and is made up of 99% recyclable materials.
"We are excited to be releasing the most configurable multiple monitor solution on the market," said Joe Tolsolt, CEO of Innovative Office Products. "Whether you are installing the product or using it on an everyday basis, Bild offers each user a seamless interface while providing exceptional quality."
Bild was featured at the 2014 InfoComm tradeshow and was awarded the prestigious Best in Show by AV Technology.
For more information on Bild, visit http://www.lcdarms.com/bild-multi-monitor-mount.php or view the Bild multi-monitor solution video for an in depth product tour. Contact a representative at 800-524-2744 to inquire about how Bild can be configured for your application.
About Innovative Office Products
Innovative Office Products is an award winning market leader of monitor and tablet mounting solutions designed and manufactured to provide the best in flexibility, space savings and ergonomic benefit. Innovative leads the way in exceptional quality by combining product performance with award winning design. All products are tested to meet or exceed BIFMA standards and are backed by a manufacturer's warranty. Innovative strives to reduce environmental impact through standard design and manufacturing procedures. Innovative assembles products in the U.S.A. at their manufacturing facility in Easton, PA.
For more about Innovative Office Products visit: http://www.lcdarms.com or follow us on Facebook, Twitter, Google+, LinkedIn, and our blog.
###