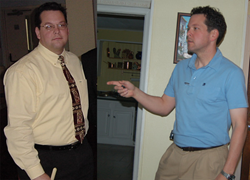 Diet Doc combines the smart nutritional food concepts, such as the Paleo Diet, into a new approach to generate up to 20 lbs of weight loss per month.
Jersey City, NJ (PRWEB) October 01, 2014
Diet Doc understands that many of their clients have difficulty sticking with their intentions to lose weight and their dieting attempts could be easily sabotaged by the temptation to indulge in unhealthy, fatty foods. Including hormone diet treatments into their programs as a way to control the appetite not only allows patients to see fast and effective weight loss results, it also allows patients to stick with their diet and begin forming healthy habits to maintain their weight for the future.
Earlier versions of the hormone diet plan consisted of practitioners encouraging a dangerously low, 500-calorie per day meal plan. Diet Doc saw the encouraging weight loss results that stemmed from utilizing this natural hormone, but also saw the need for updated research in order to allow patients to achieve these results without requiring a dangerous caloric intake. Unlike other hormone diet plans, Diet Doc was successful in modernizing their research to meet current health and medical standards and now, their patients are able to see the same weight loss results while consuming a caloric intake of almost double that of the original programs without suffering dangerous side effects.
Diet Doc's medical weight loss program combines the smart nutritional food concepts behind such diets as the Paleo diet, gluten free diets, protein diets, low carbohydrate diets, the Atkins diet, and no carbohydrate diets into a new approach combined with prescription hormone diet treatments to generate safe weight loss of up to 20 lbs. per month. http://www.dietdoc.com/testimonials/in-house-survey By getting back to basics, freeing the liver of toxic chemicals, processed food, sugar and carbs, and adding prescription hormone diet treatments and supplements, the body will easily release weight and burn embarrassing fat rapidly.
While many weight management professionals recommend weight loss supplements, finding the supplement or treatment that is right for the individual patient requires attention to their particular cause of weight gain. With this in mind, Diet Doc created their personalized prescription hormone diet plans that consider the patient's age, gender, health history, lifestyle and food preferences when choosing diet pills and weight loss supplements that will best aid clients in achieving their goals.
Because hormone diet treatments work best when following a healthy, low carbohydrate meal plan, patients will work closely with nutritionists to develop a meal plan suited to their personal needs. By incorporating the principles of the Paleo Diet that reduce carbohydrate intake, the body is encouraged to burn stored fat, instead of carbohydrates, for fuel. While Diet Doc recognizes the benefits in reducing carbohydrate intake for the low carb diet, they also encourage patients to consume lean proteins, fruits and vegetables to keep energy levels high throughout the day.
New patients will complete a health questionnaire and consult online with one of Diet Doc's highly trained doctors. Although all patients will qualify for customized diet plans, many patients will qualify for Diet Doc's hormone diet treatments. These natural hormone diet treatments work flawlessly with the tailor made diet plans to target and attack fat that has hidden itself deeply within the cells, forcing it into the bloodstream to be burned and quickly flushed from the system.
Diet Doc invites those who are struggling to lose that final 10-20 pounds to those who must lose 100 pounds or more to call today to schedule a free and confidential consultation.
About the Company:
Diet Doc Weight Loss is the nation's leader with medical, weight loss offering a full line of prescription medication, doctor, nurse and nutritional coaching support. For over a decade, Diet Doc has produced a sophisticated, doctor designed weight loss program that addresses each individual specific health need to promote fast, safe and long term weight loss.
Diet Doc Contact Information:
Providing care across the USA
Headquarters:
San Diego, CA
(888) 934-4451
Info(AT)DietDoc.info
http://www.dietdoc.com
Twitter: DietDocHCG
Facebook: DietDochcg