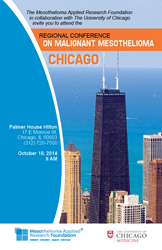 The conference is chaired by Mary Hesdorffer, APRN, the executive director of the Mesothelioma Applied Research Foundation, and by Hedy Lee Kindler, MD, the director of the mesothelioma and gastrointestinal oncology programs at the University of Chicago
Alexandria, VA (PRWEB) September 30, 2014
The Mesothelioma Applied Research Foundation (Meso Foundation) has released the agenda for its October 10th regional conference, which will take place at the Palmer House Hilton hotel in Chicago, Illinois, in collaboration with the University of Chicago Medicine. The conference is a one-day event geared to patients and family members, covering a variety of topics related to mesothelioma and presented by local and regional area experts.
The agenda can be viewed on the Meso Foundation's website at http://www.curemeso.org/chicago.
The event begins at 9:30am and concludes with a cocktail reception at 5pm. The registration cost is $25, and includes breakfast and lunch. Online registration is available.
Some of the covered topics will include imaging, genetics, surgery, chemotherapy, novel treatments, stem cells, immunotherapy, and resources for patients and families.
The conference is chaired by Mary Hesdorffer, APRN, who is the executive director of the Mesothelioma Applied Research Foundation, and by Hedy Lee Kindler, MD, the director of the mesothelioma and gastrointestinal oncology programs at the University of Chicago Medicine.
The Meso Foundation is also the host of an annual symposium, taking place in March of every year in the Washington, DC area.
Mesothelioma is a malignant tumor of the lining of the lung, abdomen, or heart known to be caused by exposure to asbestos. Medical experts consider it one of the most aggressive and deadly of all cancers. An estimated one-third of those who develop mesothelioma were exposed while serving in the Navy or working in shipyards.
ABOUT THE MESOTHELIOMA APPLIED RESEARCH FOUNDATION
The Meso Foundation is the only 501(c)(3) nonprofit organization dedicated to eradicating mesothelioma and easing the suffering caused by this cancer. The Meso Foundation actively seeks philanthropic support to fund peer-reviewed mesothelioma research; provide patient support services and education; and advocate Congress for increased federal funding for mesothelioma research. The Meso Foundation is the only non-government funder of peer reviewed scientific research to establish effective treatments for mesothelioma and, ultimately, a cure for this extremely aggressive cancer. To date, the Foundation has awarded over $8.7 million to research. More information is available at http://www.curemeso.org.
###