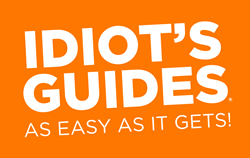 Indianapolis, Indiana (PRWEB) October 02, 2014
For twenty years, the highly-popular Idiot's Guides reference series has been making learning as "as easy as it gets." Launching November 2014, the Idiot's Guides brand will expand into a community-based, interactive website with an all-new relaunch of idiotsguides.com.
There's no shortage of how-to information on the internet—but oftentimes that information is difficult to understand, misleading, or just downright wrong. Finding one source that provides accurate and easy-to-understand information is frustrating and time-consuming—even for the savviest web user.
The new idiotsguides.com will be that one source. It offers thousands of "Quick Guides"—short, information-packed articles—and invites users to become a part of the idiotsguides.com Community and to contribute their own expertise on any topic. In addition to creating their own Quick Guides, users can edit and comment on others, so that over time each Quick Guide evolves into the most accurate, easiest-to-understand document available. Community members can earn badges and other benefits, with the ultimate prize: a chance to become a published author or paid freelance editor. The site won't be about selling the Idiot's Guides books—it will be about creating a dynamic community where knowledge is shared and consumed—in the easiest way possible.
Anyone can become part of the idiotsguides.com Community. Learn more by contacting dawn.werk(at)dk(dot)com.