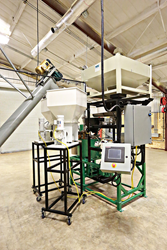 Atlanta, Georgia (PRWEB) September 30, 2014
On September 1st, 2014, Patten Seed Company's new seed plant processed its first batch of grass seed in their facility on the grounds of Patten Seed's Super-Sod farm in Ft. Valley, Georgia.
Patten Seed bought the new Universal Coating Systems equipment to coat, treat, and bag larger 25 and 50 lb. bags of their TifBlair® Centipede and Zenith® Zoysia grass seed brands. Previously, the seed company had outsourced seed coating to a company in the western part of the US and they had bagged their own grass seed in only smaller 2, 5, 6, and 10 lb. bags.
The opening of this facility now allows Patten Seed to grow, clean, coat, treat, and bag all of their own seed, keeping everything local to the Southeast. This streamlining and centralizing brings efficiency to the process of getting the seed from the farm to the consumer, saves shipping expenses, gives them more control of inputs, and allows for a quicker turn around time.
Patten Seed Company/Super-Sod is a family-run business that employs experts in turf and horticulture. One of their most popular products has been their Soil3 organic compost, delivered in a cubic yard BigYellowBag, which they make partially from composted grass clippings from their sod and seed production. Patten Seed/Super-Sod continues to develop new garden products, foster gardening and landscaping, and always seeks to improve their farming practices, technology, environmental stewardship, and employee knowledge.