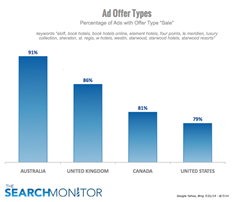 The goal of the analysis was to see how Starwood adjusted its PPC marketing for its different global markets.
Orlando, FL (PRWEB) September 30, 2014
The Search Monitor, the leader in precision ad intelligence for marketers and affiliate managers, today released its monthly search engine marketing snapshot for the travel vertical.
The monthly analysis focused on the important travel industry topic of geo-targeting in SEM, looking specifically at a large global advertiser, Starwood Hotels. The goal of the analysis was to see how Starwood adjusts its PPC marketing for its different global markets.
Analysis Performed

Reports Run: The Search Monitor's Geo-targeted PPC Reports for the US, UK, Canada, and Australia
Keywords Monitored: aloft, book hotels, book hotels online, element hotels, four points, le meridien, luxury collection, sheraton, st. regis, w hotels, westin, starwood, starwood hotels, starwood resorts
Dates Analyzed: July 31-August 7, 2014
Search Engines Analyzed: Google, Yahoo, Bing
Report Highlights
Ad Copy: The Search Monitor's ad crawling platform analyzed the ad copy used in thousands of Starwood ads run in the US, UK, Canada, and Australian markets. The company was surprised to find that Starwood ran roughly the same copy in all four markets, with the exception of certain UK ads which emphasized booking guarantees and included more prominent badges and TM symbols.
Offer Types: Next, The Search Monitor's analysis pulled out the specific offers used by Starwood in each market, focusing on the use of sales. More than 90% of the Starwood ads run in Australia included 'sale' in the copy, making it Starwood's preferred location for running sales in the four-country comparison. The Search Monitor noted that the high prevalence of sales likely came from the need to discount travel in that country's winter months.
UK ads came in second place, with 86% mentioning a sale. Canada was third (81%) and the US rounded out the short list at just 79% of its ads mentioning a sale.
To see more detail from this report, or to learn about SEM trends among travel advertisers, please visit The Search Monitor.
About The Search Monitor
The Search Monitor captures advertising activity on paid search, organic search, social media, mobile search, and shopping engines worldwide for brand and affiliate compliance, and competitive intelligence. Interactive agencies, search marketers, and affiliate marketers use The Search Monitor to gather and analyze competitive information more effectively. To learn more, please visit http://www.thesearchmonitor.com.