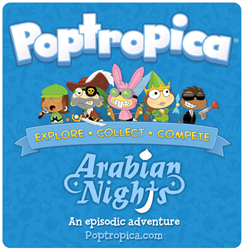 BOSTON, Mass. (PRWEB) October 02, 2014
Poptropica's newest Island, Arabian Nights, will be available to Poptropica Members with Early Access today. The first quest on the virtual world for kids based on a fan-submitted idea, Arabian Nights takes players on a journey to an ancient land of sultans, thieves and a magical lamp with power beyond imagination. The full public launch of Arabian Nights will be on Oct. 23, 2014.
An episodic adventure in three parts, Arabian Nights begins when the Sultan asks Poptropica Players to retrieve his cherished lamp from the 40 thieves, and players quickly learn that the lamp may be the greatest treasure in the kingdom.
The winner of Poptropica's Create Your Own Dream Island contest, Sarah S. (Poptropica player "Magic Eagle"), found the inspiration for her Island in souvenirs her dad brought back from his deployment to Kuwait, including a genie lamp, a magic flying carpet and Clyde the camel.
Describing her reaction when she found out she won the contest, Sarah said, "When I found out I had won, I screamed, jumped up and down, and danced around the house for at least an hour. I almost couldn't believe it. I thought I was going to wake up and realize it was all just one awesome dream."
"How wonderful that Sarah found the creative inspiration for her idea from souvenirs that her dad brought back from his deployment," said Jess M. Brallier, publisher of Poptropica. "We are excited for Sarah to play the Island and hope to see 'Magic Eagle' make it onto the Arabian Nights World Champions Player Map."
Poptropica Members will have access to a printable Arabian Nights book cover featuring their very own avatar. All players can download the free Arabian Nights desktop wallpaper and printable poster.
Hundreds of millions of kids have visited Poptropica since its launch seven years ago, and the number grows every day. Poptropica players come from more than 200 different countries and territories and have their web browsers set to more than 100 different languages.
Kids can stay up to date on news about upcoming new Islands and other exciting developments in the world of Poptropica on the official Poptropica blog. Parents can keep up to date on new Island releases and features on Poptropica by following the Poptropica Creators on youtube.com/poptropicacreators, facebook.com/OfficialPoptropica, plus.google.com/+poptropica, or at Twitter.com/poptropica.
About Poptropica (http://www.poptropica.com)
Poptropica is a virtual world in which kids explore and play in complete safety. Every month, millions of kids from around the world are entertained and informed by Poptropica's engaging quests, stories and games.
Kids create a "Poptropican" character to travel the many Islands of Poptropica and use gaming literacy to enjoy a narrative that is often rooted in factual history. Problem-solving skills are honed as kids discover and solve mysteries unique to each Island.
There are always new areas to explore in this ever-expanding world where kids can collect objects, read digital books and comics, watch movies and compete in head-to-head competition. Parents can always trust that their children are playing – and learning – in a safe online and mobile environment.
Poptropica is published by Pearson, the world's leading learning company.