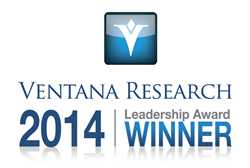 The CFO of the Alaskan retailer was recognized for transforming the budgeting and forecasting process.
Natick, MA (PRWEB) October 01, 2014
Centage ™ Corporation, a leading provider of budgeting and forecasting software (Budget Maestro™) for small and medium sized businesses, today announced customer Hames Corporation, and Chief Financial Officer (CFO) Maxwell Rule, have been named a 2014 Technology Leadership Award winner by Ventana Research in the category of CFO. Recognized for his ability to deliver exemplary business and financial performance, Rule successfully used Budget Maestro to transform the budgeting and forecasting processes at Hames and enable the company to plan for growth. Rule will be discussing his insights and best practices from the project during a panel at the 2014 Ventana Research Summit event on October 22nd at the Hyatt Regency San Francisco, California.
Hames Corporation, based in Sitka, Alaska, owns and manages several retail stores in both Sitka and Ketchikan, Alaska two of the largest and most visited cities in the state. They operate under brands including Sea Mart Quality Foods and Market Center, Cascade Convenience Centers, Watson Point Liquors and Newtown Liquor Store. As their company and brands expanded, so too had the need to significantly improve the budgeting, forecasting and financial reporting process to not only keep pace with the growing business, but with new legislative requirements such as the Affordable Care Act and correlating personnel expenses.
As CFO, Rule quickly identified the need for a solution that could accurately forecast earnings, integrate with their existing Microsoft Dynamics® GP general ledger, provide a deeper level of detail, and simplify consolidations. Under Rule's guidance, Hames implemented Budget Maestro and completely transformed the retailer's budgeting and forecasting process. Traditional financial reporting via Excel was replaced with sophisticated reporting and analysis which has proven invaluable as the company can now accurately budget and monitor healthcare costs, even down to the specifics of an individual employee's health plan options. As a result, the new strategic approach to reporting has made the Hames Corporation shareholders, executives and management team more confident in the long term financial success of the organization.
"Organizations of every size are looking to make better decisions based on the information they already have and to do so quickly," said Mark Smith, CEO and chief research officer of Ventana Research "Hames Corporation is an example of how that can be done successfully at the CFO level. By using solutions that are designed to not only streamline critical budgeting and forecasting processes, but are flexible enough to grow along with the business, Maxwell Rule and his team at Hames can conduct sophisticated reporting and analysis to better understand where the business is today and more importantly how it must evolve for the future."
"Information is the foundation of any business, but numbers alone don't tell the whole story. With Budget Maestro, Hames was able to conduct a more detailed analysis of their stores and brands to glean critical business insights and apply that knowledge to addressing business challenges," said Barry Clapp, President, Centage Corporation. "We are thrilled that both Hames and Maxwell are being recognized for their efforts and we are honored to be their strategic partner."
For more information on the Ventana Research Business Technology Leadership Awards visit http://www.ventanaresearch.com/Leadershipawards. To learn more about how Centage can transform your budgeting and forecasting process follow us on Twitter @Centage or visit our blog http://centage.com/Blog/.
About Centage
Budget Maestro® by Centage is an easy-to-use, scalable, automated budgeting, planning, and forecasting application. It is designed for small to mid-market companies and automates many of the time-consuming and error-prone activities associated with using spreadsheets to generate accurate budgets and forecasts. It features built in financial and business logic that allow users to build and update their budgets and forecasts and never worry about formulas, functions, links or any custom programming. It is the only solution in the market that offers synchronized P&L, Balance Sheet, and Cash Flow reporting that generate automatically and seamlessly update. Budget Maestro serves more than 7,000 users worldwide. Visit us at http://www.centage.com. For more information follow us on Twitter @Centage or visit our blog http://centage.com/Blog/ for the latest insights on budgeting and forecasting strategies.
###
Centage and Budget Maestro are registered trademarks of Centage.