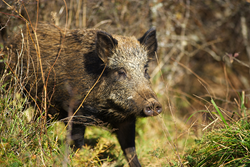 They stopped immediately – they used to come every night.
Chicago, IL (PRWEB) October 01, 2014
Wild boars, an invasive pest species in many parts of the world including the United States, are so common that they consistently make headlines on a daily basis (news.google.com); so what if a person just wants to keep them out of their garden? Bird-X, bird and pest control manufacturers for over 50 years, explain how one product may help keep this growing problem from reaching people's backyards.
In September Tim Stanton of Hawaii called Bird-X to inform them of his success with using the Yard Gard electronic pest repellent against wild boars that were digging up his backyard. "They stopped immediately – they used to come every night," he said.
Mr. Stanton said prior to installing the Yard Gard units, one in his front yard and another in the back, the boars would come every night and dig through this yard, nosing around for insects and other food beneath the soil. "They made a real mess of the place and tore up my lawn." Additionally the hogs wallowed in muddy spots creating ugly indentations in the landscaping and trampled his ornamental foliage. Mr. Stanton also mentioned that he has a neighbor with a big wallow hole under his mango tree, and that some people who live in the area are scared of the boars.
Wild pigs, boars, and javelina are common all over the world – in the United States they are common in California and areas spanning from Florida to Texas. They are also common across China, Japan, India, the Middle East, the Philippines, Northeastern Australia, and all over Europe.
The problem with boars and people is nothing new, but the most effective method has traditionally been to shoot, trap, or otherwise physically remove the animals. Mr. Stanton said, "That creates a whole other problem – people who trap them have to have a service come and take them away; it's usually at night and they make all kinds of noise."
Thankfully Mr. Stanton found a solution that's reduced the number of wild boars on his property; he says he's had no more incidents in his front yard since installing the unit two months prior, and only two in his backyard, but mentions he might try adding a second unit to increase the effect. When asked if he'd taken any additional measures to keep the boars away, he said, "I tried installing a fence and they got through that; this is the best solution I've found."
While hunting and trapping wild boar may still have its place, the homeowner who just wants them to stop tearing up their landscaping may find similar success with the Yard Gard. For more information about controlling feral pigs, javelinas, and wild boar without the mess and hassle of traps or other methods, please visit the Bird-X informational page for Wild Pig Control.
Bird-X, Inc. is the leading international brand of humane bird and pest control products since 1964, and is dedicated to protecting human health, wildlife and the environment in which we all live. The Chicago-based company manufactures a complete line of unique pest control products with an unmatched focus on quality, efficacy, and customer service.