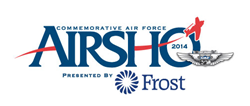 Midland, Texas (PRWEB) October 02, 2014
In addition to showcasing some of the most iconic aircraft from World War II and top aerobatic performers, the CAF AIRSHO also benefits a number of non-profit groups in the Permian Basin.
"There are more than 20 community organizations that benefit from the CAF AIRSHO each year," said AIRSHO Chair Gena Linebarger. "The groups provide a boost of additional volunteers needed to support such a large event and for their participation, each group benefits financially."
For example, local Boy Scouts have been handling the parking for this event for several years. A portion of the parking fee goes directly back to the Boy Scouts. Another group, the UTPB Marketing Students sells AIRSHO programs and receives a portion from those sales. Other organizations, such as the Permian Basin AFL-CIO and the Greater Odessa Rotary Club provide staffing for refreshment stands and receive a direct donation from AIRSHO.
"We enjoy sharing our aircraft with the residents of the area, but it is a major undertaking," Linebarger continued. "We would not be able to pull off such a successful event without additional support from these wonderful groups."
Some civic and non-profit organizations that benefit from their involvement in the CAF AIRSHO include the Midland Lions Club, ROTC groups from Midland Lee High School, Midland High School, Permian High School, Odessa High School and Angelo State University; Boy Scouts and Order of the Arrow; UTPB Accounting and Marketing students; Greater Odessa Rotary Club; AT&T Pioneers; Permian Basin AFL-CIO; Midland and Odessa Citizens on Patrol; Civil Air Patrol; Midland Police and Sheriff's Department; Ector County Republican Women; Zaminatorz and Gamerz (student clubs Odessa High School); House of the Sycamore Tree; Texas Scholar Students; Midland Legacy and Interact Students.
The CAF AIRSHO, known as "The Best Warbird Show in America," will feature many rare and historic aircraft from the CAF flying fleet, including the World's Only Flying B-29 Superfortress FIFI, two B-17 Flying Fortresses, Texas Raiders and Sentimental Journey, the Red Tail P-51 Mustang Tuskegee Airmen and reenactment performer TORA! TORA! TORA!
Advanced tickets are $20 for adults and $5 for children ages 6-12. Tickets can be ordered online at http://www.airsho.org or by visiting any Frost Bank locations, area 7-Eleven stores or Domino's Pizza locations. Tickets purchased at the gate will be $25 for adults and $5 for children. Children age five and under are admitted free. Parking is an additional $5. Gates open each day at 8:30 a.m.
Private chalets, sponsorship opportunities and exhibit space at the event's TradeSho are also available. For more information, visit http://www.airsho.org or call (888) 945-3008.