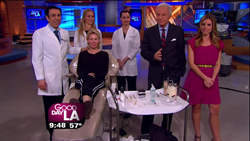 Los Angeles (PRWEB) September 30, 2014
On September 16, 2014, Women's Health Magazine posted an article on its website titled "Can You Really Reverse Sun Damage?" that provides readers with a basic overview of the damage the sun can do to unprotected or under-protected skin and offers some treatment options to repair damage that's already been done. The article notes that sun damage can manifest itself visibly in fine lines, wrinkles, brown spots, and dull and dry skin. Invisible damage can include injury to the skin's DNA and collagen, and thickening of the keratin layer. (see: goo.gl/SJtFxu)
"The report does a pretty good job of explaining the best way to use sun screen and reminding readers that the only way to fully protect against sun damage is to block the sun's rays entirely with head-to-toe clothing, a hat, and sunglasses," says Dr. Ourian, Medical Director of Epione Beverly Hills.
According to the Women's Health Magazine article, readers should be diligent about the amount of time they spend in the sum and in properly applying sun screen to protect their skin. Sun screen with SPF 30 may only provide the protection of SPF 10 if it's misapplied. The first line of skin repair may be a product containing Retin-A, as it decreases long-term damage and promotes cell turnover. The next level of repair may be a chemical peel, photodynamic therapy, or Intense Pulse Light.
"The article stops short in providing a complete list of treatment options for sun damaged skin," says Dr. Ourian. "Every day at our Beverly Hills clinic we treat the results of years of overexposure to the sun. We offer the Coolaser as a comprehensive treatment protocol for sun damaged skin."
Dr. Ourian has been a pioneer in laser technology and non-invasive aesthetic procedures including Restylane, Juvéderm, Radiesse, Sculptra, and CoolSculpting. These treatments are used for the correction or reversal of a variety of conditions such as acne, acne scars, skin discoloration, wrinkles, unwanted fat, stretch marks, varicose veins, cellulite, and others. More information about sun damage can be found on Epione's website.