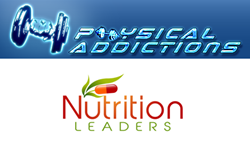 Customers of the former PhysicalAddictions.com site will enjoy a seamless transfer to NutritionLeaders.com.
Indialantic, FL (PRWEB) October 02, 2014
Physical Addictions, a bodybuilding and sports supplement outlet, is excited to announce the merger of its online store with NutritionLeaders, a premier retailer of vitamins, herbal products, and nutrition aids. The change, which will direct all orders, product links, and customer service functions from PhysicalAddictions.com to NutritionLeaders.com, is effective immediately.
According to Kimba Vasquez, Managing Director of Nutrition Leaders, the merger neatly resolves expansion desires that each site had been dealing with separately. "Physical Addictions was looking to clarify their industry and widen their appeal with a new name," explains Vasquez. "While our loyal customers knew to expect great service and sports supplement products, we found that new and prospective customers were confused by our name." At the same time, Nutrition Leaders wanted to tap into the thriving sports nutrition market. "Once we realized a merger would fulfill the best interests of both sites, we moved quickly to close the deal."
Vasquez further notes that customers of the former PhysicalAddictions.com site will enjoy a seamless transfer to NutritionLeaders.com. "A key part of our merger strategy was to ensure that existing customers would be able to continue using their same logins and access their previous order histories and other relevant data," he says. "Our team worked hard to get this done so customers would not experience any disruption of service when ordering from the new and improved NutritionLeaders.com."
Vasquez goes on to point out that continuity of service isn't the only benefit customers can expect from the merger. They will also have more products to choose from - including Extreme Whey, a PhysicalAddictions exclusive product, enhanced order tracking capabilities with real-time status updates, greatly increased server speeds, increased payment information security, and the same competitive pricing practices that NutritionLeaders.com has always been known for.
"We're extremely pleased with the look, feel, and functionality of NutritionLeaders.com after the merger and are confident that all customers old and new will love their shopping experience at our online store."
About Physical Addictions: For nearly 25 years, Physical Addictions has been the only store in Brevard County that specializes in sports nutrition, including vitamins, muscle builders, and hard to find products, including fat burners and more. The store has been under new ownership since May of 2013, and remains dedicated to providing an unmatched sports nutrition shopping experience. The friendly knowledgeable staff is always ready to help with any of your health and fitness goals.