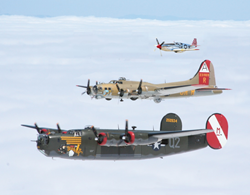 Hagerstown, Md. (PRWEB) October 01, 2014
Aviation and World War II history buffs alike are invited to explore a one-of-a-kind aviation display brought to you by the Collings Foundation's 25th Anniversary Wings of Freedom Tour, October 6 – 8 at Hagerstown Regional Airport, 18434 Showalter Road.
On this stop of the 110-city tour, visitors can board the B-17, one of only eight in flying condition in the United States or the B-24J and Full Dual Control P-51C Mustang, the sole remaining planes of their type flying in the world, today.
These aircraft are open to the public for walk-through tours on October 6, 12:00 p.m. - 4:30 p.m.; October 7, 9:00 a.m. - 4:30 p.m. and October 8, 9:00 a.m. – 12:00 p.m. WWII veterans will receive guided tours at no charge. Tours are $12 for adults and $6 for children 12 years and younger.
Visitors may also experience the once-in-a-lifetime opportunity to take a 30-minute flight aboard these rare aircraft. Flights on either the B-17 or B-24 are $450 per person. For reservations and information on flight experiences call 800-568-8924.
For up-to-date information on HGR events, visit flyhagerstown.com or like HGR on Facebook at Hagerstown Regional Airport. For additional information, contact Public Relations and Community Affairs Manager James Jenkins at 240-313-2384.
###
About Hagerstown Regional Airport
Hagerstown Regional Airport (HGR), a financially self-supporting airport complex managed by Washington County, is home to a variety of businesses that provide travel services to the general public and airside services to the general aviation community. The 400-acre facility includes a secured perimeter, an air traffic control tower, state-of-the-art navigational aids, and the second-longest public runway in the State of Maryland. Sun Air provides passenger service to Dulles International Airport (IAD) and Allegiant provides passenger service to Orlando Sanford International Airport (SFB). Visit http://www.FlyHagerstown.com for more information.
Get Connected and See Updates
Facebook: Like on Facebook at Hagerstown Regional Airport
About Washington County, Maryland Government
Washington County, Maryland Government strives to fulfill its duty to the citizens of Washington County with regard to operational efficiency, fiscal responsibility, and responsiveness to the needs of the community. This vision is used to ably assist the Board of County Commissioners of Washington County in achieving goals for moving the County forward as present needs and future plans are addressed.
According to the Maryland Department of Legislative Services, the Washington County General Fund has one of the lowest costs per capita for services provided of all 23 counties and Baltimore City. This is attributed to the efficiency, staffing levels, and cost containment exhibited in Washington County Government operations. Visit http://www.washco-md.net for more information.
Get Connected and See Updates
Twitter: Follow us on Twitter @WashingtonCoMD
Facebook: Like on Facebook at WashingtonCountyMD
YouTube: Watch on WashingtonCountyMD
About the Collings Foundation
The Collings Foundation is a 501c3 non-profit educational foundation devoted to organizing "living history" events that allows people to learn more about their heritage and history through direct participation. The Nationwide WINGS OF FREEDOM TOUR is celebrating its 25th year and visits an average of 110 cities in over 35 states annually. Since its start, tens of millions of people have seen the B-17, B-24 & P-51 display at locations everywhere. The WINGS OF FREEDOM tour is one of the most extraordinary and unique interactive traveling historical displays of its kind.