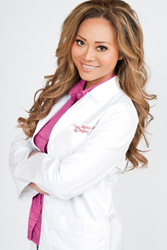 "Revision surgery involves careful and detailed planning, meticulous removal and blending of the irregular areas, and often fat grafting to dents or areas that were over suctioned."
Beverly Hills, California (PRWEB) October 08, 2014
On March 31, 2014, the New York Daily News reported the story of Beverly Brignoni, a 29 year old woman who died on the operating room table in the Dominican Republic after traveling there looking for affordable plastic surgery. These plastic surgery complications are not just isolated to foreign countries – on February 14 of this year, ABC News reported the death of a 45 year old woman who received cosmetic injections by another unlicensed provider in New York who was actually a massage therapist.
Dr. Catherine Begovic, a board-certified plastic surgeon in Beverly Hills who specializes in revision liposuction surgery, has noticed an increase in the number of revision surgeries from non certified practitioners. Dr. Begovic whose revision liposuction procedure was featured on "The Doctors" TV Show states that most of the patients she sees had their initial surgeries by practitioners who were not plastic surgeons. In the last month alone, she operated on a 20 year old patient from New York City who had undergone surgery in the Dominican Republic resulting in such significant irregularities in her abdominal and flank areas that it was noticeable even through clothing. Another patient who had liposuction by an OB/Gyn doctor had such severe contour irregularities and visible dents all over her entire body that Dr. Begovic could only repair some areas – others were so damaged that she was not a candidate for revision. Dr. Begovic has seen patients from all over the US as well as foreign countries seeking corrective surgery and the number is increasing. Many of the patients didn't know that their surgeons were not board-certified plastic surgeons. They often got confused by aggressive marketing that stated that the practitioners were board certified and didn't realize that they were certified in other specialties. Both the American Board of Plastic Surgery as well as the American Society of Plastic Surgeons provides the public with a listing of board certified plastic surgeons all of whom underwent at a minimum, 5 years of plastic surgical training in an accredited program and then a rigorous examination and certification process. For these patients who underwent elective surgery to look better, they are often filled with regret and disappointment when they ended up looking worse.
"Revision surgery is much more challenging and although improvements can be made, it is impossible to completely smooth out some of the irregularities or fix the asymmetries," states Dr. Begovic. "I always make sure to establish realistic expectations and let patients know that I will do everything I can, but often times, scar tissue as well as unpredictability with healing and sometimes permanent injury to the tissues are unable to be repaired." Dr. Begovic explains how revision surgery involves careful and detailed planning, meticulous removal and blending of the irregular areas, and often fat grafting to dents or areas that were over suctioned.
Patients who initially felt they were saving money by going to discounted liposuction centers or foreign countries where the price was cheaper, often end up spending more money in the long run. One of Dr. Begovic's patients who flew from Canada to have his revision surgery told her that his initial surgery seemed very affordable – only $5,000 for almost his entire body – chest, abdomen, sides, and love handles. He was left with pockets of fat around his belly button, upper abdomen, and sides with deep indentations and irregularities of all areas. Dr. Begovic performed a three hour revision liposuction of his abdomen which evened out and smoothed all the irregularities. He will be having the other areas revised in the fall which will also involve extensive fat grafting to the deep indentations. The total amount he has already spent including travel and revision surgery is already over $14,000. After doing more research, the patient found out that his initial surgery was performed by an emergency medicine doctor or perhaps even a physician assistant. He wasn't even sure who the doctor was since he never met him before the surgery and only saw an assistant at a follow up appointment.
Therefore, as a consumer, it benefits you to do your research. Discounted plastic surgery can often cost more; and in some cases even cost you your life.