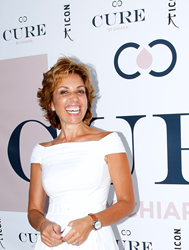 "CURE by Chiara's expanded products have aided in overall recovery of my hair, acting as a cure all." ~Chiara
Los Angeles, CA (PRWEB) October 01, 2014
Behind every great product is usually a life altering story, rife with dilemma and no solution in sight. I.C.O.N's newest release, CURE by Chiara, is the meaningful conclusion to the Co-Founder's yearlong epic with Breast Cancer, and lifelong commitment to fighting the disease. After a most intimate battle with Breast Cancer, I.C.O.N.'s Co-Founder/Creative Director and Product Developer Chiara recognized the immediate need for a professional hair care line to help heal and manage all textures of hair; especially strands altered by the effects of chemotherapy and radiation. On Oct. 1, in honor of Breast Cancer Awareness Month, the international brand will launch its revolutionary product line.
CURE by Chiara is I.C.O.N's expansion of its flagship product and top seller, CURE Replenishing Spray. Originally developed to condition, soothe, hydrate and cure damaged hair as a leave-in product, CURE has now become catalyst to its entire line. "Creating a micro-brand by extending the CURE name is the logical extension of a product that has come to define the word. CURE means to heal," Chiara explains. After a yearlong battle with Breast Cancer that included a double mastectomy, aggressive chemotherapy, radiation and multiple reconstructive surgeries, Chiara developed the Recover Shampoo and Double Body Serum to manage the noticeable change in her hair texture. "The chemicals my body consumed to treat the disease changed both my hair texture and manageability," Chiara expounded.
Retailing at $95 for the trio, I.C.O.N.'s Salon Lab specially formulated CURE by Chiara to revive, rejuvenate and repair hair. Active ingredients include: color-protecting Prodew 500, strengthening Quinoa and Tripeptides, breakage reducing extracts, moisturizing Aloe, soothing and shining Silk Protein, smoothing Panthenol, elasticizing Pro Vitamin B-5 and hair loss preventive B-3. CURE by Chiara's products works to enrich texture by changing the balance with all types of hair, smoothing and softening wilder textures and encouraging body in textures that are fine and flat, making it usable for all, regardless of cultural or ethnic background.
Alongside CURE by Chiara's debut into the beauty market, I.C.O.N. has aligned with Stop Cancer to attach as its beneficiary, donating twenty-percent of all its proceeds. "Long before I was a survivor, I was an advocate for the cure, life made sure of that," Chiara expressed. Losing her mother to Breast Cancer and watching her sister's parallel journey with the disease firsthand solidified her resolve to join the fight prior to her own diagnosis. $150,000 has been raised in research grants through Stop Cancer and I.C.O.N.'s "Cure For A Cause" partnership to date. Stop Cancer was chosen specifically on account of their relationship with UCLA's Jonsson Comprehensive Cancer Center, where one dollar in-kind donations are matched to every dollar raised to pay for utilities, researchers, materials needed and building expenses – everything needed for research.
While Chiara is determined to continue to raise funds for research organizations all over the world and tame hair's texture in the process, the quest to cure cancer will never go out of style with I.C.O.N. Products.
About I.C.O.N.: First launched in Europe and North America in 2002, I.C.O.N.'s products are sold in professional salons across the continents. Its philosophy of encouraging touch therapy within its care products and creating Liquid Fashion in its styling/finishing tools continually challenges the perception of beauty. I.C.O.N. has consistently broken the established professional beauty rules in order to provide a balance of identity. All I.C.O.N. products are crafted with EcoTech formulations, combining the best of ecology with advanced technology. The company offers expanded education and twice-yearly style collections. For additional information on Chiara or I.C.O.N. Products, please visit http://www.iconproducts.com.