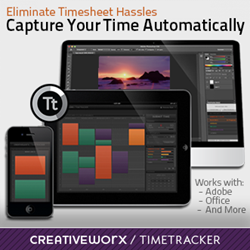 QuickBooks plus CreativeWorx TimeTracker is a game-changer for all services firms who want fast, accurate timesheets and job-level profitability.
New York, NY (PRWEB) November 18, 2014
CreativeWorx, the global leader of automatic time capture solutions, has announced that users of QuickBooks Online platform, the world's most popular account solution, can now use TimeTracker to solve their timesheet problems.
TimeTracker is a simple plug-in that solves the problems of late and inaccurate timesheets. By automatically (and privately) capturing how people do their work...and learning to assign the correct billing codes to that effort, TimeTracker eliminates the most frustrating and error prone aspects of completing accurate timesheets. Companies using TimeTracker have reported a significant increase in productivity, profitability and employee job satisfaction.
"The combination of QuickBooks and TimeTracker is timesheet nirvana for financial executives and billable employees," said CreativeWorx CEO, Mark Hirsch. "We're thrilled to be bringing this solution to the QuickBooks user base."
By integrating directly with QuickBooks, TimeTracker eliminates any need to duplicate data-entry...ensuring that employees see a current list of clients & billing codes, when appropriate. With its award-winning user interface, TimeTracker provides an exceptional experience and makes the submission of accurate timesheets a relatively trivial process.
Used in over 100 countries, TimeTracker has already taken the world by storm, by automatically capturing time spent in tools like Microsoft Office, Adobe Creative Cloud, Apple Productivity Tools, browsers and more. The integration with the QuickBooks accounting platform was an obvious next step.
For more information, click here: QuickBooks + TimeTracker solution.
About CreativeWorx
CreativeWorx is a New York-based technology company redefining enterprise productivity. Founded by an ambitious team of former Adobe, Apple, BusinessInsider and big 5 Consulting employees, CreativeWorx has built a data mining cloud-based platform that redefines productivity by harnessing untapped worker data to power real-time efficiencies and improved analytics.
CreativeWorx is privately funded and was named 2013's "Most Fundable Startup" at the New York City based Startupalooza investor pitch competition and the "Best Information Technology Company" at the New Jersey Technology Council (NJTC) Venture Conference.
TimeTracker Overview video: http://vimeo.com/90387965
About Intuit Inc.
Intuit Inc. creates business and financial management solutions that simplify the business of life for small businesses, consumers and accounting professionals.
Its flagship products and services include QuickBooks®, Quicken® and TurboTax®, which make it easier to manage small businesses and payroll processing, personal finance, and tax preparation and filing. Mint.com provides a fresh, easy and intelligent way for people to manage their money, while Demandforce® offers marketing and communication tools for small businesses. ProSeries® and Lacerte® are Intuit's leading tax preparation offerings for professional accountants.
Founded in 1983, Intuit had revenue of $4.2 billion in its fiscal year 2013. The company has approximately 8,000 employees with major offices in the United States, Canada, the United Kingdom, India and other locations.