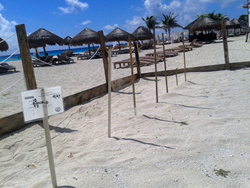 Cancun, Quintana Roo (PRWEB) September 30, 2014
Within the framework of the celebration of World Oceans Day that aims to preserve the safety of sea life, Sunset World Resorts & Vacations Experiences, always looking to excel as a model of Sustainable Tourism and do its bit to preserve ecosystems, calls on volunteers, ministries, visitors and collaborators to team up to take care of beaches, oceans and all sea species that need our care.
Out of the eight sea turtle species in the planet, seven come to the coasts of Mexico to nest and the northern region of Quintana Roo boasts the only beaches where four turtle species come: white, loggerheads, hawksbill and leatherbacks. Each nest averages a total of 100 to 120 eggs.
The Sea Turtle Protection Program began in 1994 and it exists to create awareness about the importance of this endangered species protected at a federal level.
Sunset World became involved in turtle preservation activities during the 2009-2010 season, through the initiative of the prevention department and its manager and with the help of biologist Petra Montoya, Municipal Ecology Coordinator. A theoretical-practical training course was offered to the Prevention and Entertainment staff at the Sunset Royal Beach Resort about how to proceed before, during and after a turtle lays its eggs. They were taught what to do when a turtle comes out of the sea to spawn, how to transplant the nests and how to create incubation pens in an area that must be fenced, protected and guarded. Obstacles are removed from the beach, the spotlight directed to the beach is turned off and a report is made about every turtle that comes up to the beach, the time, date, species and number of eggs it spawns.
The liberation of the sea turtle hatchlings born from May to September starts in October. The liberation takes place every night at around 9:30 pm at the beach in front of Sunset Royal Resort. In groups of 10 and with all the preventive measures in place, tourists and local residents alike will liberate 800 turtles during this season.
Up to date, 2,432 turtles including hawksbills, white and loggerheads have been liberated, and the aim is that each year there will be more hatchlings to liberate thus more turtles will come back to lay their eggs at the beach that welcomed them to the world. According to statistics, two out of every hundred turtles reach adult age.
Year after year, the liberations that take place in the Quintana Roo coast become a full- blown celebration.
For further information: Marketing and Communication Department
nchavez(at)sunset(dot)com(dot)mx
(998) 287 4100 ext. 3508