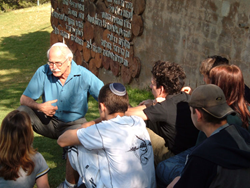 I hope to see each Village Way hub serving as a beacon of hope and wholeness in its area
(PRWEB) September 30, 2014
World of Children Award will honor Chaim Peri – Director Emeritus of Yemin Orde Youth Village – in New York City on November 6, 2014, for giving thousands of uprooted youth around the world a home at the Yemin Orde Youth Village in Israel. The Village has been so successful at helping at-risk youth achieve success in school and later in life that the principles of the model have been adopted by 20 other educational communities throughout Israel and abroad.
Chaim Peri's name means "fruitful life" in Hebrew, and he has taken that connection to heart. For more than 30 years, Peri has brought new meaning to the word "life" for thousands of youth around the world who were uprooted or from dysfunctional homes, giving them a long-term home base at Yemin Orde, the Orde Wingate Youth Village in Israel.
Tellingly, once youth graduate from Yemin Orde, they often return "home" to Yemin Orde to visit or to spend weekends or holidays, serving as role models for the children at the village. Peri has played an integral role in fostering this strong sense of community.
"The graduates of Yemin Orde over the years have been my main inspiration to continue and to broaden the scope of our work," Peri said.
The successful model that Peri has created at Yemin Orde has been integrated in 20 educational institutions throughout Israel, shared by all sectors of Israeli society: Jews and Arabs alike.
"I hope to see each Village Way hub serving as a beacon of hope and wholeness in its area," Peri said. "I would like to see it expand beyond the borders of Israel; making an impact on educational communities in the Middle East and throughout the world."
In 1998, Peri received one of the very first World of Children Humanitarian Awards for his dedication to troubled youth at Yemin Orde. World of Children Award will honor him again with their 2014 Alumni Award at the World of Children Awards Ceremony on November 6, 2014.
"We are deeply inspired by the remarkable contributions our Honorees have made to changing the trajectory of children's lives for the better," said Harry Leibowitz, World of Children Award Co-Founder and Co-Chair.
To learn more about Chaim Peri, visit http://www.worldofchildren.org/honoree/chaim-peri
About World of Children Award
World of Children® Award improves the lives of vulnerable children by funding and elevating the most effective changemakers for children worldwide.
Since 1998, World of Children Award has granted more than $6 million in cash grants and program support to 100 humanitarian leaders who are the driving force behind programs serving children worldwide. The organization's exhaustive research and vetting of individuals has been hailed by leading philanthropic organizations. The media often refers to World of Children Award as the Nobel Prize for child advocacy.
World of Children Award has been featured on The New York Times, The Huffington Post, People, Town & Country, and Harper's Bazaar. World of Children Award Honorees have also been featured by The New York Times, CNN, The Ellen DeGeneres Show, Fast Company Magazine, People, Glamour, TEEN Vogue, TIME for Kids, USA Today and the Christian Science Monitor, among several other national and international media.
Most recently, The Huffington Post named World of Children Award's Co-Founders, Harry Leibowitz and Kay Isaacson-Leibowitz, one of the United States' most inspiring "power couples" for their lifetime commitment to improving the lives of vulnerable children around the world.