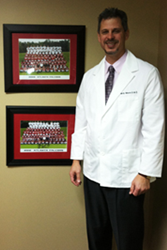 Buford, GA (PRWEB) September 30, 2014
Dr. Randolph S. Moore recognizes the importance of Self-Improvement Month by inviting patients to explore their options for straightening their teeth through the use of Six Month Smiles®, a dental service available through with Dr. Moore's practice. These adult braces are different from traditional braces due to the fact that the ultimate goal is purely cosmetic. Patients seeking cosmetic dentistry in Buford, GA can therefore turn to Dr. Moore for their teeth straightening needs.
When it comes to adult braces, there is some understandable apprehension among patients who are reluctant to wear the brackets and wires for an extended period of time. The reason that traditional orthodontics requires such a lengthy process to deliver results is due to the fact that bite correction is also a goal of the process. Six Month Smiles® solely focus on the cosmetic aspect of a patient's smile, allowing patients to benefit from the relatively fast improvement process. By offering cosmetic dentistry in Buford, GA, Dr. Moore makes a number of self-improvement options available to patients.
The reason for the advanced rate of change that is possible through the use of Six Month Smiles® is the result of a focus solely on the teeth that are visible when the patient smiles. Instead of correcting the patient's bite or any other functional problems that may be present, this treatment's goal is to simply improve the nature of the patient's smile. Another common cause of apprehension relating to adult braces is the conspicuous nature of the brackets and wires, a worry that is alleviated by Dr. Moore's practice through the availability of tooth colored or clear appliances. According to Dr. Moore, Six Month Smiles® is particularly helpful when it comes to correcting crooked teeth, as well as gaps and spaces that are visible when a patient smiles.
Individuals who are interested in exploring opportunities for self-improvement through cosmetic dentistry in Buford, GA can call the office of Dr. Moore for more information or to schedule an appointment for a consultation. The doctor will then be able to discuss the details of the procedure along with any other treatment options that may be available.
About the Doctor
Dr. Randolph S. Moore is a general dentist offering personalized dental care for patients in the Buford, GA area for over 20 years. Dr. Moore received his degree from the University of Alabama in Birmingham, and completed his residency at the Veterans Hospital in Birmingham. Dr. Moore is active in the dentistry field and is a member of the Georgia Dental Association, the American Dental Association, American General Dentistry, American Academy of Cosmetic Dentistry and ICOI (International Congress of Oral Implantologists). To learn more about Dr. Moore and his dental services, visit his website at http://www.smilemooredentistry.com/ or call (770) 545-6141.