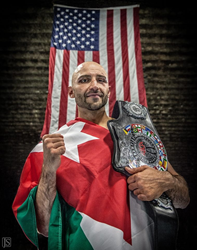 It's a lifelong goal that I don't have to dream about anymore"
Lockport, NY (PRWEB) September 30, 2014
The highly-anticipated news the kickboxing world has been expecting finally came last week from World Kickboxing Association President Brian Crenshaw regarding the next step for Lockport's Amer Abdallah.
Abdallah was enjoying dinner with his family in Jordan during the month of Ramadan when he heard his phone alert him of an email.
"As soon as I saw the subject was WKA RANKING, my heart dropped," Abdallah stated. "My wife noticed the look on my face and asked if I was okay. It wasn't until after I read the first few sentences that I was able to look at her and smile ear to ear."
The WKA head office in Europe officially announced Abdallah as the number two ranked cruiserweight in the world and have given him the opportunity to fight for the world title.
Abdallah's 10-round unanimous decision victory over European Champion James Wallis on June 7 allowed him not only to capture the Intercontinental title, but also become the mandatory challenger for the world championship.
"I'm thrilled, humbled and anxious all together," Abdallah stated. "It's a lifelong goal that I don't have to dream about anymore, I can actually grasp."
With Lace Up Promotions set on a Nov. 15 date at the Kenan Arena, it is possible but unlikely that the fight will happen then.
"I'm very pleased at Amer's number two ranking, but our ultimate goal has always been winning a world title," said Team Abdallah Manager Ahmed Imamovic. "We'll go through the offers and look at each closely. Team Abdallah is very excited to continue this journey and to be able to share it with all of the fans who have supported us throughout."
Abdallah is expected to return in mid August from his overseas goodwill visit where he is visiting local charities, orphanages and refugee camps.
"My immediate focus right now is helping the thousands of homeless and parentless kids here in their current situation," said Abdallah. "I'll decide our next step after getting home and discussing it with my team."
Of the many organizations and charities Abdallah works with, his main focus is on less fortunate youth. His first gym located in the City of Lockport focused primarily on the inner city boys and girls that needed an after school activity to keep them out of trouble and in the streets.
"That is where my heart is and what I love doing. I don't want to see any of these kids grow up and go to jail," Abdallah stated. "Many are simply victims of their elements and just need to see hope in their future."
In between fights and promotions, Abdallah spends much of his time speaking with troubled children at community youth programs. And at each of his fights, they all get free tickets as his guests to watch their local hero represent them.
About Lace Up Promotions:
Lace Up Promotions strives to give local athletes the opportunity to build their careers, gain fans, build a reputation and work their way to lifelong ambitions of championships. Amer Abdallah had a passion for promoting and teaching kickboxing, boxing, and Muay Thai from an early age, and after successfully running a gym for teaching and training, Abdallah took this passion to the next level with Lace Up Promotions.
Having promoted numerous champions, such as Sam Stout, Jim Andrello, Mark Hominick, Chris Hordecki, Alexis Davis, Kim Andrello, Ed Burris, Kevin VanNostrand and even Amer Abdallah himself, Lace Up Promotions has become a well-known name in the combative sports world. To learn more, visit their website at http://laceuppromotions.com/.