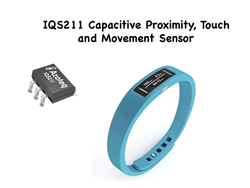 The IQS211 is the lowest cost capacitive proximity, touch and movement controller available today" said
(PRWEB) October 02, 2014
Azoteq, the world leader in proximity and touch solutions, today announced the release to market of the IQS211. The IQS211 is the first low cost proximity controller with movement detection that prevents stuck conditions.
The IQS211 offers one self-capacitance channel in a small SOT23-6 package. Proximity wakeup allows for very low power consumption until the user interacts with the product. The outputs can be configured via OTP settings for proximity or movement and touch outputs. The device can operate in standalone, I2C or 1-wire streaming modes.
The IQS211 has several modes of operation. In fast response mode the device only draws 80uA and in low power mode only 4 uA while sensing, making it ideal for battery applications.
"The IQS211 is the lowest cost capacitive proximity, touch and movement controller available today" said Kobus Marneweck, VP of Marketing.
Features

Pin compatible with IQS127/128/227/228
Automatic Tuning Implementation (ATI)
On-chip movement detection algorithm
Minimal external components
Up to 60pF sensor load
Standalone direct outputs:
Primary output - Activation
Secondary output - Movement

I2C interface
1-Wire streaming interfaces
Special configurations:
Activation based on capacitive load at power-on
Automatic Threshold Adjustment (ATA) with varying capacitive load

Movement output selection:
Pulse Frequency Modulation (PFM, default)
Pulse Width Modulation (PWM)
Latched
PWM only active in activation

80uA (20ms response)
20uA (50ms response)
4uA Low Power mode

Supply voltage: 1.8V to 3.6V
Low profile TSOT23-6 package
Applications

Movement detection devices (anti-theft)
White goods and appliances
Human Interface Devices
Proximity activated backlighting
Applications with long-term activation
Pricing and Availability
The IQS211 is priced at $0.21 in quantities of 1K.
IQS211 samples and production are available from Mouser now.
About Azoteq (Pty) Ltd
Azoteq (Pty) Ltd (http://www.azoteq.com) is the world leader in proximity and touch solutions for switches, sliders, scroll wheels and touch screens in consumer and industrial applications. Azoteq (Pty) Ltd has design and manufacturing centers in South Africa and China, and sales offices and distributors in South Africa, Asia, Europe and the USA.
IQ Switch®, ProxSense®, LightSenseTM, AirButton®, DYCALTM are trademarks of Azoteq (Pty) Ltd.