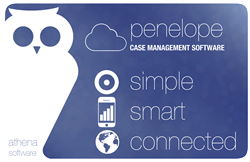 Waterloo, ON (PRWEB) September 30, 2014
Penelope is 10!
Penelope is an innovative, web-based case management software application for health and social service agencies that was first developed and released by Waterloo, Ont. tech firm Athena Software (http://athenasoftware.net) in 2004.
A lot has changed since the debut of the application, which effectively replaced Athena's original case management system (also named Athena). Penelope has been available 'in the cloud' since 2005, well before the option of cloud-hosted software became standard.
Since the initial launch of Penelope, Athena's staff has increased five-fold (and continues to grow), while its customer base has grown to include hundreds of organizations around the world, with over 17,000 end users of the application helping an estimated one million adults, children and families each year.
As well, since 2004 Penelope has travelled around the world, with agencies in Japan, Australia, New Zealand, South Korea, Ireland, the U.K., South Africa, Turkey, Greece and Fiji (as well as expanding across North America) implementing the use of Penelope during her first decade.
The Penelope application was initially developed as an enhanced version of the Athena application, providing integrated scheduling, billing, reporting, outcomes measurement, service tracking and staff collaboration tools for nonprofit and social service agencies across the world.
Over its 10 year history, Penelope has grown to accommodate the development of many groundbreaking features in case management software, such as:

SMS / Email Alerts - Penelope users (and clients at their agency) can receive alerts, notifications and reminders via text or email, whether they are logged into the system or not
Collaboration Suite - an internal communications centre that allows Penelope users to communicate on clinical or non-clinical matters in a secure, encrypted environment
Auto Triggers - an extensive suite of automated workflow options designed to increase efficiency and streamline processes at the health and social service organizations who use Penelope around the world
Smart Forms / Outcomes Assessments - Penelope's powerful documents features allow for tracking and graphing client progress and outcomes over time, robust stats reporting along with the ease of use and configurability that is a Penelope trademark
Targets & Actuals - a comprehensive toolset for setting organizational targets and then tracking agency performance in relation to those goals
Electronic Signature Capture - Penelope users and their clients can sign documentation electronically from within the system by using a stylus, mouse or even their finger!
Credit Card Processing - clients using Penelope's comprehensive accounts receivable billing features can process credit card transactions directly from the application itself, just like using a credit card payment terminal
211 / Blue Book directory - a completely customizable directory of community services and contacts located within Penelope, compatible with Penelope's comprehensive inbound and outbound referrals management functionality
In the interests of continuing to enhance the application's user-friendliness, feature set and overall design, Penelope has gone through a few makeovers since its initial release. Though Athena clients are currently using Version 4 of the client information system, a fifth version is already in the development stage and will continue Athena Software's commitment to providing intuitive, forward-thinking and mobile case management software to its users around the globe.
 
ABOUT ATHENA SOFTWARE
Athena Software (http://athenasoftware.net) is a case management software provider based in Waterloo, Ont., Canada. Since 2001, Athena has grown to partner with hundreds of organizations across the globe, and now has over 17,000 end users of its Penelope case management solution.