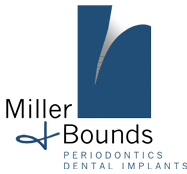 Irvine, CA (PRWEB) September 30, 2014
Dr. Todd E. Miller and Dr. Steven J. Bounds are two of the few periodontists in Irvine or Orange County, CA to offer patients the LANAP® protocol as a treatment option for moderate to severe gum disease. Laser gum surgery via the LANAP® protocol is an incredibly effective treatment option for patients suffering with gum disease.
The LANAP® protocol is quickly becoming the preferred treatment option of patients and dental professionals alike for the treatment of gum disease. This is because laser gum surgery, like the LANAP® protocol, doesn't require any cutting or suturing like most traditional treatment options for gum disease. The LANAP® protocol utilizes a specialized FDA cleared laser called the PerioLase®MVP-7 to selectively target and remove diseased tissue and bacteria without harming the surrounding healthy teeth and tissue. This is possible because the laser operates at a very specific and specialized wavelength of light that is primarily absorbed by the inflammed and diseased gum tissue as well as the black pigmented bacteria that largely cause gum disease.
This advanced gum disease treatment is a relatively new alternative to traditional gum disease surgery and offers patients many unique advantages. Traditional gum disease surgery typically involves a fair amount of cutting, bone re-shaping and gum line repositioning via suturing to reduce pocket depths . Unfortunately, with traditional gum disease surgery, the repositioning of the gum line typically exposes the more sensitive roots of the tooth and opens up spaces between the teeth. This is not the case with the LANAP® protocol. The LANAP® protocol leaves the gum line in place and minimizes gum recession and exposure of sensitive roots through the selectivity of the PerioLase®MVP-7 laser. This is a huge advantage to patients because it can mean the difference between eating and drinking comfortably instead of suffering with sensitive teeth. The LANAP® protocol also stimulates bone growth and gum re-attachment around endangered teeth, which decrease the possibility of tooth loss, thus improving overall oral and whole-body health.
The LANAP® protocol offers patients many advantages over traditional gum disease surgery with essentially equal treatment outcomes with regard to disease elimination and tooth retention. Patients suffering with gum disease and looking for a periodontist in Irvine or Orange County, CA should look no further than Miller and Bounds, specialists in Periodontics. For more information on the LANAP® protocol and the services offered by Dr. Miller and Dr. Bounds, please call (949) 344-2059 or visit their website at http://www.millerandbounds.com/.
About the Practice
Miller & Bounds Periodontics and Dental Implants is a periodontal practice providing personalized dental care for patients in Irvine or Orange County, CA. Dr. Todd E. Miller received his Doctor of Dental Surgery from the University of California Los Angeles Dental School in 1980, where he also served as a clinical periodontics instructor at the UCLA Dental School. Dr. Miller's partner, Dr. Steven J. Bounds, graduated from Creighton University School of Dentistry, where he received his Doctor of Dental Surgery degree in 1996. Dr. Bounds went on to complete his Certificate of Specialization in Periodontics at Ohio State University, where he also served as a clinical instructor to the university's dental students and contributed to biochemistry research efforts. Both doctors have extensive experience in all aspects of periodontal treatment, including dental implants, periodontal plastic surgery, gum and bone regeneration, and IV conscious sedation. Drs. Miller and Bounds are among the first group of periodontists and dentists in the country to undergo the training required to perform the Chao Pinhole Surgical Technique™, a new minimally invasive alternative to traditional gum grafting surgery. They also belong to the one percent of dental professionals currently providing the Laser Assisted New Attachment Procedure (LANAP®), the first FDA-cleared laser procedure for gum disease and periodontal treatment. To learn more about the dental services available at Miller & Bounds Periodontics Dental Implants, please visit http://www.millerandbounds.com or call (417) 889-5297.