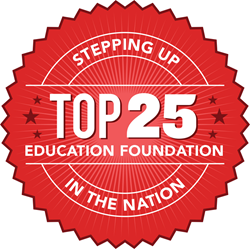 (PRWEB) October 01, 2014
The nation's only study and ranking of K-12 education foundations, "Stepping Up: The Top K-12 Education Foundations in the Nation," has ranked Pinellas Education Foundation first in the nation, with five other Florida education foundations among the top 25 and an additional six among the top 50. Stepping Up looked at eight key performance categories to determine the ranking: annual revenues, revenues per student, total assets, assets per student, investment income, total program expenses, expenses per student, and human capital (volunteers).
In addition to Pinellas Education Foundation's number one ranking, Hillsborough Education Foundation was sixth, followed by Education Foundation of Osceola County at eighth, Foundation for Seminole County Public Schools at 10th, Brevard Schools Foundation at 16th, and Polk Education Foundation at 17th. Six other Florida foundations rounded out the top 50: Foundation for Lee County Public Schools, 27; Broward Education Foundation, 28; Jacksonville Public Education Foundation, 34; Pasco Education Foundation, 38; Futures Foundation for Volusia County Schools, 46; and Education Foundation of Palm Beach County, 50.
The purpose of the Stepping Up Study is to advocate the importance of K-12 education foundations while recognizing those that do it best.
"Most parents have never heard of their local K-12 education foundation, yet nearly all children are impacted by the foundation's work," said Dewey Caruthers, president of dewey & associates and author of the study. "Education foundations enhance public education in many vital ways; for instance, with scholarships that send low-income students to college, arts and music programs that open children's minds to more than a high-stakes test and dropout prevention efforts that keep students from quitting, just to name a few."
The study reviews K-12 education foundations in the top 100 largest school districts in the nation (by population). The eight performance categories used in the study pulls information directly from the foundations' 990 filings with the U.S. Internal Revenue Service. Per student calculations are added to better reveal the impact a foundation is having based on the number of students in the district.
"Some foundations raise large amounts of money, but when compared to the number of students in their districts, it becomes clear the impact on most students is minimal," said Caruthers.
In addition to the overall national rankings, four divisions were created to divide foundations based on annual revenues. Division 1 includes foundations with $2 million or more in revenue; Division 2 includes foundations with revenue of $1 million to $1,999,999; Division 3 includes foundations with half a million dollars to $999,999 in revenues; and division 4 includes foundations with less than half a million dollars in revenue.
"Stepping up is about much more than comparing a $3 million a year foundation to a $300,000 one," said Caruthers. "This study proves that some of the smaller foundations are among the top-performing foundations."
In terms of its division, Pinellas Education Foundation still comes in at first and Hillsborough Education Foundation still comes in sixth in division 1, followed by Education Foundation of Osceola County at eight, and Foundation for Seminole County Public Schools rounding out the top 10. In division 2, Brevard Schools Foundation ranks first, followed by Polk Education Foundation at second. Also in division 2, Foundation for Lee County Public Schools and Broward Education Foundation rank seventh and eighth place, respectively. Division 3 includes Pasco Education Foundation at third place and Foundation for Orange County Public Schools at tenth. Finally, division 4 includes Futures Foundation for Volusia County Schools in first place.
"Having so many of our member foundations rank so highly is a testimony for the power of individual foundations working together to strengthen one another," said Consortium of Florida Education Foundations President Mary Chance. "We've had a movement of literally thousands of individual leaders – volunteers, staff and supporters – over the past 30 years who have contributed to the success of Florida's education foundations and we are really just scratching the surface of the potential for this important work."
To review the full Stepping Up study, visit http://deweyandassociates.com.
About dewey & associates
Founded in 2000, dewey & associates (d&a) is a national management and strategy consulting practice based in Tampa Bay, Florida. The firm does strategic planning for various types of organizations and efforts, but specializes in obesity prevention, K-12 education foundations and juvenile justice reform. d&a conducts national and state studies in education and juvenile justice reform. It previously conducted Stepping Up in 2012 and will conduct the study annually moving forward.