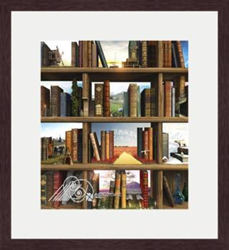 (PRWEB) October 01, 2014
Every month, American Frame, a web-based custom framing and art printing company, sponsors a contest for artists who sell and display work through American Frame's online Art Gallery. Winners are selected by customer votes on Facebook and receive a cash award and promotion through American Frame. This month's winner is Cynthia Decker, a digital artist who creates two-dimensional images from three-dimensional digital environments.
Decker's images do not begin as photographs. Rather, they spring from her imagination and her techniques, while accomplished through the use of computer software, are not unlike traditional artistic methods. She sketches, shades, considers shape, scale, texture and color. Decker describes the sophistical digital design process as "high tech papier-mâché." Once the three-dimensional image is perfected, the computer converts it to a high-resolution two-dimensional image. This can take days to render at a resolution high enough for a quality art print.
Decker's work has appeared in art shows in North Carolina and Tennessee and her work is on display in permanent exhibits in the Woolworth Walk Gallery and Mission Children's Hospital in Asheville, North Carolina.
Decker's work is often inspired by stories. "I loved books as a child. I would escape into reading every chance I got and now reading is one of my favorite ways to unwind." This influence is evident in her winning image, "Storyworld LARGE." The piece took Decker about a month to create. It is printed on Lasal Photo Matte paper and framed with a simple profile in a rich stain from American Frame's Basics collection (frame w1216) with a Bainbridge AlphaMat in Spanish White (8463).
About American Frame
American Frame provides professional-quality DIY custom picture framing supplies and fine art printing services at wholesale prices direct to the consumer. Its easy web interface allows customers to design a custom frame treatment for assembly in the comfort of their homes or studios. They can also upload a digital image to be printed on canvas or fine art paper and receive framed work ready to hang. All orders are handcrafted in Maumee OH and shipped within 2 business days. Family owned and operated since 1973. Love your art. Frame it right.™