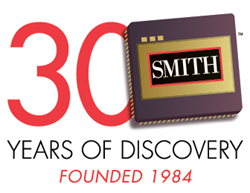 Electronica is one the world's foremost gatherings for the electronics industry, and we are excited to showcase our thirty years of experience at such a dynamic event.
HOUSTON, TX (PRWEB) October 01, 2014
Smith & Associates, the largest independent distributor of electronic components, today announces its upcoming exhibition at Electronica 2014 in Munich, Germany. Smith, which celebrated its thirtieth anniversary in May, will join this leading industry gathering to showcase its global quality and service offerings and its strengthened focus on the broad European market.
Smith & Associates representatives will be on-hand in booth 412 to demonstrate the company's capabilities for product sourcing and expansive, flexible supply chain solutions to empower global manufacturers, as well as Smith's extensive quality assurance and anti-counterfeit testing capabilities. Electronica will also offer Smith the opportunity to highlight its resources for localized support, which are built on the strong foundation of the company's network of thirteen global offices.
"Electronica is one the world's foremost gatherings for the electronics industry, and we are excited to showcase our thirty years of experience at such a dynamic event," said Mark Bollinger, Smith's Vice President of Marketing.
Smith's recent growth has extended its market share while deepening its core offering to meet the demands of a changeable market environment. The company has placed special focus on combatting global counterfeiting efforts with the strength of its leading laboratories and quality programs, engineering unique supply chain management strategies, and maintaining sharp awareness of industry developments such as new global environmental and government compliance requirements. It has also developed innovative inventory and supply management partnerships with key customers that serve as models for addressing market uncertainties. Now, Smith is poised to highlight these advantages.
"This event will offer a prime platform to meet current and potential customers in person to demonstrate all that we have to offer this evolving industry," said Mark. "We look forward to sharing Smith's message while also engaging with leading industry players and learning more deeply about the newest developments and concerns in the global market."
What: Electronica 2014
When: Tuesday, November 11, 2014 – Friday, November 14, 2014
Where: Smith & Associates Exhibition Showcase
Hall A4, Booth 412
Messe München
Messegelände, Munich, Germany 81823
Meetings with Smith personnel can be scheduled via Smith's Electronica page.
About Electronica
Electronica is a global business platform that draws decision-makers and investors from Germany and abroad, ensuring first-rate potential for new businesses. This show represents a concentration of expert knowledge, from developers to company executives, in nearly all consumer segments and user industries – from automotive and industrial electronics to embedded, wireless, medical electronics and MEMS. Electronica draws buyers and decision-makers in search of suitable products and solutions to meet their current and future requirements. This trade show, which is known for the unsurpassed quality and quantity of its visitors, is strictly business – and unparalleled in the industry.
About Smith & Associates
Founded in Houston in 1984, Smith & Associates is a leader in the independent distribution of semiconductors and electronic components to electronics and high-tech manufacturers. Smith offers shortage sourcing for commodity and obsolete parts, innovative purchasing and inventory management solutions, redistribution of excess inventory, and component stocking for warranty and repair programs.
A privately-held company, Smith & Associates employs more than 300 people worldwide, with annual revenue in excess of US $586 million. Smith's regional hubs in Houston, Hong Kong, and Amsterdam are ISO certified. In addition, sales and purchasing offices are located in Austin, Silicon Valley, Guadalajara, New York, Shanghai, Shenzhen, Seoul, Singapore, Taipei, and Penang. For more information, see http://www.smithweb.com/ or, to reach a Smith representative 24 hours a day, please call: 1.800.HOUSTON or +1 713.430.3000.
###
For more information, contact:
Mark Bollinger
Smith & Associates, V.P. of Marketing
+1 713.430.3000
mbollinger(at)nfsmith(dot)com