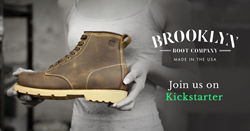 "In our opinion, people want to buy USA-made products, but budgetary restrictions often don't give them the choice to buy homegrown over imported goods." - Gino Bellia, Brooklyn Boot Company Founder
New York, NY (PRWEB) October 02, 2014
Brooklyn Boot Company is taking a new approach to USA-made footwear by crafting top-quality American-made shoes at an accessible price point.
Brooklyn Boot Company was founded by Gino Bellia, an entrepreneurial individual within H.H. Brown Shoe Company. After visiting his company's domestic factory, Bellia was inspired and moved by the environment, passionate workers and unmatched craftsmanship that he saw. It was there he had a vision to bring power back to American manufacturing and fuel the movement to make quality, homegrown products more accessible to the everyday consumer.
Bellia sought to prevent shoppers from turning away from USA-made products due to the high costs associated with such goods. To achieve this, Brooklyn Boot Company employs a direct-to-consumer price model that excludes the traditional retail markup, allowing the brand to price its products competitively without ever compromising quality. By only selling direct to their customers, Brooklyn Boot Company delivers high-quality boots at a fraction of the price of other American-made boots in the market. By eliminating the traditional retail margin from the equation, this model enables the brand to sell a boot that would retail for approximately $300 for a final, direct price of $175.
After presenting his vision for a direct-to-consumer brand produced out of the corporation's domestic factory to his CEO, Bellia was given the opportunity to build a small team to develop his idea and ultimately take the brand to market.
Brooklyn Boot Company will produce its boots in a factory in Martinsburg, Pennsylvania and source leather from trusted tanneries who use the best quality raw materials available. Each boot will be finished with soles from Vibram©, the world's leader in high performance rubber soles that are flexible, slip-resistant and durable. The Rough Lands boot is the brand's introductory style to be available in four colors: Grey Grizzly (grey), Night Wolf (black), Barking Rough Out (rough out suede) and Bison Pull-up (brown bison leather). Modeled after the classic American work-boot, the Rough Lands has stylish appeal and was designed for comfortable, everyday wear.
Brooklyn Boot Company on Kickstarter:
On September 15, 2014 Brooklyn Boot Company launched on crowdfunding website Kickstarter. The campaign will run through October 15, 2014, with the goal of raising $50,000 through pledges. As of October 2, 2014, the campaign is over 60% funded. Backer rewards for pledge levels include exclusive branded items and the opportunity to pre-order Brooklyn Boot Company product at a discount before it hits the market. The brand is offering four colors of their introductory boot style, the Rough Lands series.
Brooklyn Boot Company is on Kickstarter to test the market for a direct-to-consumer USA-made footwear brand. Funds raised will serve as proof of concept to allow for further brand development and will secure timely delivery of the first run of production.
"We are so proud of our domestic factory and, basically, we wanted it to account for a larger percentage of our overall business. In our opinion, people want to buy USA-made products, but budgetary restrictions often don't give them the choice to buy homegrown over imported goods. We saw this concept as a way to make the quality our Pennsylvania-based factory is known for accessible to a larger audience. We want to deliver the best boot at the fairest price we can possibly achieve and support our domestic factory while doing so," Brooklyn Boot Company's founder Gino Bellia, said of the concept.