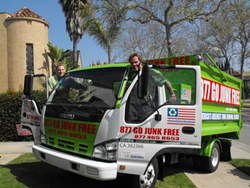 (PRWEB) September 30, 2014
Go Junk Free America has announced its purchase of the 2015 Hino 195h CEO, a diesel-electric hybrid that is one of a very short list of Class 5 dual-powered trucks. This purchase makes the company one of the first known private junk removal services to possess such technology, a continuation of owner Evan Berger's commitment to being "America's Greenest Junk Removal Service."
Although Hino is a subsidiary of the Japanese company Toyota, the 195h was designed specifically for the U.S., with a vision toward meeting and exceeding America's green-vehicle goals. The truck runs on a combination of diesel fuel and electric power, which can improve its fuel economy by up to 30%.
According to Hino, the truck also features the world's first Hybrid Adaptive Control System, which helps continuously monitor driving and road conditions to optimize fuel economy and performance. Its emissions system contains proprietary technology that claims to lower mono-nitrogen oxide emissions by over 80%.
The Hino 195h is one of 13 trucks that has been recognized by the State of California for its energy-efficiency through the California Hybrid and Zero-Emission Truck and Bus Voucher Incentive Project (HVIP). This incentive strives to "help speed the early market introduction of low-carbon hybrid and electric trucks and buses," and has become a de facto standard for evaluating green commercial vehicles in California.
Go Junk Free America considers this purchase 2014's most important stride toward remaining on the cutting-edge of green technology. The organization has a long record of eco-friendly practices, including a commitment to recycling or reusing over 80% of the junk it picks up, using low VOC paint on existing trucks, and issuing uniforms, business cards, and clipboards made of recycled material. Its existing fleet utilized oversized truck beds in an effort to lower emissions by putting fewer vehicles on the road. Berger considers the acquisition of the Hino 194h to be yet another way the company is pushing the envelope toward being the greenest junk removal company in America.
About Go Junk Free America
Go Junk Free America is a Los Angeles-based junk removal company servicing individuals and businesses. It handles all types of waste, including construction and landscaping materials, e-waste, and large appliances, as well as offering entire-house cleanups for chronic hoarders, light demolition services, and spa and trailer removal. Go Junk Free is committed to helping the environment through implementing the best eco-friendly practices.